There is something amazing about those classic fashion pieces which sort of never goes out of trend is that right? We don't know have you heard but there is a lot of trends on the fashion runways this year. Here are only some of them: strong shoulders, light blue combined with earthy tones, all leather look, belts over blazers and coats, chain necklaces, chain belts, mixed prints, earthy tones, bold colors… and so on.
Today we are here to talk about the basic blouse and wide-leg pant which never seem to go out of trend. When you combine those two you get a classy sophisticated look which you can wear now but it will also be wearable in ten years' time or even more. You get our point, right?
Regarding this season wide-leg pants have made a place on fashion runways and it does not seem to be going away any time soon. Skinny jeans have been popular for a while but now it's time for them to leave the runway. If we are talking about basic blouses there isn't much to say about them, is it? Because they will always be wearable – maybe in different colors and materials but they will always be popular and considered a good choice.
Of course, we wanted to give you some examples of classic or so to tell basic blouses and wide-leg pants. We went through different online shops and found these ones:
MANGO LEATHER WIDE LEG PANTS – If you are a real fashion lover then this sort of pants will absolutely charm you. Just imagine wearing two trends at the same time while wearing one fashion piece. Isn't that great? As we have previously mentioned wide-leg pants are a popular trend this season and one more popular trend this season ( actually this one is huge ) is leather. Leather is almost everywhere and leather wide-leg pants are a great idea.
ANTHROPLOGIE WIDE LEG PANTS – If you would like to renew your closet with some new and trendy fashion clothes then these rusty color wide-leg pants would be an absolutely great idea.
NORDSTROM WIDE LEG PANTS – All of you business ladies with a classy business style will adore these ones. It is a pair that would be wearable all the time.
MASSIMO DUTTI PLAIN POPLIN SHIRT – This is simply a classic piece that every woman should have.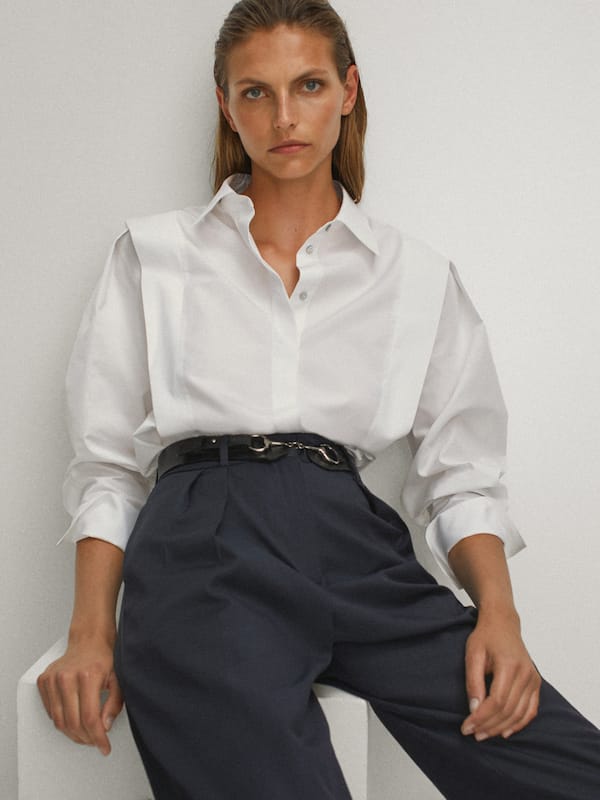 MASSIMO DUTTI SHIRT WITH TIE DETAIL – If you are not the type of woman who likes neutrals then this red blouse is something you should consider.