Accessories can either make or break a look. In the world of fashion, accessories are an important part of every outfit. Every time you accessorize, it can elevate your ensemble. Sometimes, it only takes one big accessory to take your look to another level. While we all know that necklaces and earrings are enough to dress up our outfit, frame chains or eyeglass chains are the It accessory that we never knew we needed. If you love adding accessories to enhance your look, then you are going to love eyeglass chains. This big trend is back with a bang.
Back in the days, the eyeglass chains were solely used for their functionality and exclusive to our grandmothers as it is used to hook onto the eyeglasses to prevent being misplaced. Now, this retro style is giving a chic revival and the eyeglass chains have evolved from functional purpose to must-have fashion. Designers have jumped on the bandwagon and revamped this accessory by incorporating chains, pearls, metals and beads to take the look up a notch. If you find that your pair of sunnies is boring, add a gold chain to elevate the look. It is not essential jewelry for sunglasses.
If you are someone who is always losing your pair of sunglasses or leaving them everywhere once you have taken them off, well these trendy chains will keep them from getting lost. This super fun eyeglass chain is a great way to add some spice to your summer style.
How Do You Wear Eyeglass Chain?
They can be worn behind the neck in a classic style, or just dangling in front, like a hat strap that also looks like a statement necklace when you let the glasses down.
Standout Eyeglass Chain That Will Transform Your Look
Check out the selection of eyeglass chains below.
8 Other Reasons Pearl Sunglass Chain
Pearls are classic and timeless and this pearl eyeglass chain from 8 Other Reasons is proof. Made with freshwater pearls, it is great for a dramatic statement. If you have a simple wooden frames or gold frames, they will add a little pop of color and make heads turn. This glasses chain will break the simplicity and add texture to an ordinary design.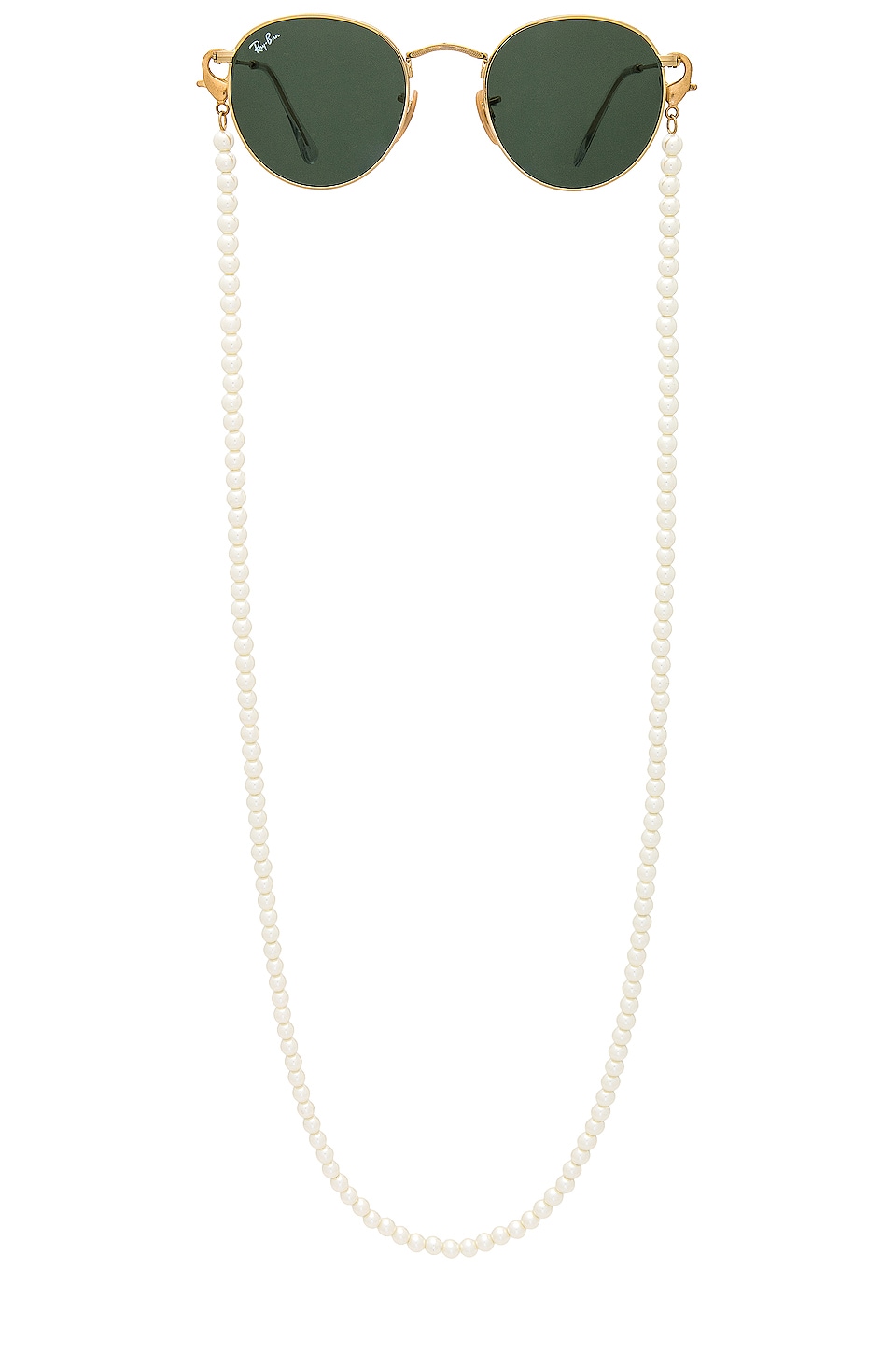 Pearl And Beaded Eyeglass Chain
This Missoma eyeglass chain features mixed materials and it feels like feels like summer rolled into one single piece. It has a combination of freshwater pearl, malachite, and other blue little beads for a fresh look.
Crimmy Eyeglass Chain
This is one of the top-selling sunglass chain. It features some colorful chunky beads and stones along the chain that give it an earthy yet fashionable look.
Link Glass Chain
Silver link glasses chain features oversized links to take your eyewear look to the next level. For your info, oversized links is one of the most talked about accessories of this season. In addition to durable silicon loops, it also includes silver-plated brass and clasps.
Linda Farrow Tortoiseshell Acetate And Gold-Tone Sunglasses Chain
This chunky tortoiseshell chain from Linda Farrow is nothing short of dramatic. Put this on your oversized frames and it is bound to stand out from the crowd. This chain is a must-buy if you always find it hard to search for things inside your bag.
Jackie Oh Eyeglass Chain
If you are a minimalist, this slender rose gold chain is for you. It features oval open links that add visual appeal to the thin eyeglass chain. This look is timeless and understated.