Being a girl whenever we go for shopping, it ends up in buying a lot of stuff for our makeup kit. But the problem here is we never get rid of the old one. Our obsession with makeup becomes alarming when it is spread everywhere without any order. 
Why is it Needed?
The large or small cosmetic collection doesn't really matter and it's quite tricky to keep it organized and accessible. The best and highly recommended way is to customize the makeup storage solution based on a collection that can fulfill your needs.
If you want to get rid of this insurmountable mess and build your own makeup vanity. You have to follow these few tricks.
Steps of Organizing Makeup:
Stock All Your Makeup
The first thing to do before deciding what you will be doing with your makeup is that you can stack all of it on a bed. Separate all lipsticks, liners, Nail polishes everything. this way you will know which stuff you have and in how much quantity.
Deciding What Is Needed
You can never have enough space to get enough of your stuff. Getting rid of old, used-up, and expired product is very important. You need to keep in mind that used mascaras, liners and foundations tend to grow bacteria that might be damaging for your skin. It is better to discard them.
If you don't remember the last time you used the product or you needed it. Then it is certainly of no use. Storing such stuff will be of no good.
Sorting Out Makeup
This is probably the most tiring step. You have to make separate portions of eye makeup, lipsticks, foundations, perfumes, body lotions, and nail polishes. There is a strong possibility that you have alike product of different brands. Then choose which one is better and should be kept.
Make sure you are not compromising quantity over quality. You can check the expiration dates also make sure none of the products is damaged or has changed color or fragrance.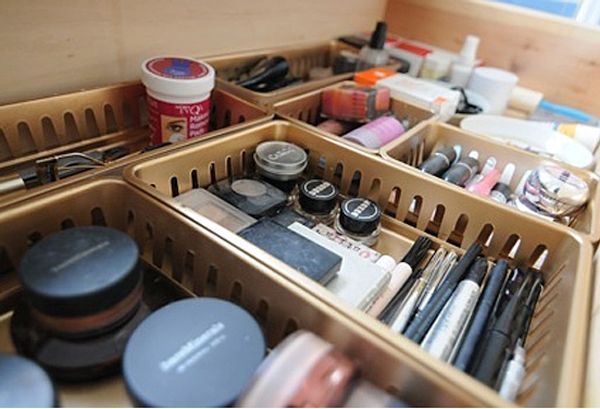 Finding the Right Storage
You have to see if you have a storage system that is good enough. It is possible that you have been using storage that is not capable of handling all your products. Maybe be the shape or design of your vanity is way too old-fashioned.
At times, a new storage might be your preference. All what you need to decide about finding the most suitable one. Many customized storage bags and boxes are also available.
Select one considering the size, color, and design.
Organizing
The last and most important step is organizing makeup into the containers. Arrange all your lipsticks and nail polishes according to color and place them together. Place your makeup tools in a separate section.
Make sure that sharp and pointy stuff is covered and wrapped properly so it might not harm you accidentally.
This way you will have a better idea of where to find what is needed while applying makeup and you won't have to lay open everything. Please click here to find more fashion info https://www.bitittan.com/