Boho style is the perfect fashion for summers. Bohemian style is something that can make any girl look nice. Such style is mostly found in loose clothes that are worn in warm temperature. You can really look beautiful such a dress. These dresses are also good to wear on the beaches over swimwear. These dresses are available in a number of patterns and designs in various colors. You can easily pick one that you think would be nice for you. Here are some options available that you can consider buying this season.
Boho Style Long Sleeve Women Dress
The unique colorful pattern printed on the dress makes it look beautiful. This offers comfort with its free-flowing design. Thus, it is ideal to wear in summers. You must have such an item in your wardrobe this season. It is made of polyester and has a V-neck design. It has pleated sleeves which add to the overall look.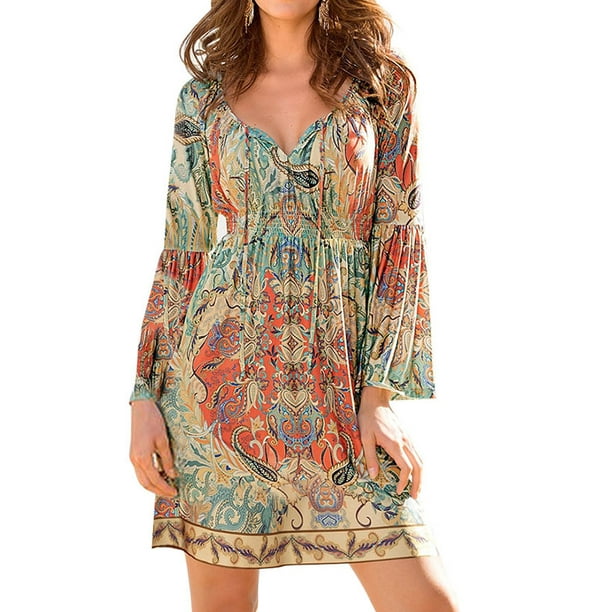 Boho Lace Maxi Dress
It is a perfect boho style dress to wear on special occasions. Anyone can fall for your beauty in it as it is made watchable with top to bottom lacework. It has an empire waistline and V-neckline. It looks even great on you with some boho jewelry. There is a gold belt attached to it which makes it gorgeous. Short sleeves are perfect for summers.
Boho Lace Tulle Maxi Dress
Bohemian Style Floral Print Maxi Dress
It is made from polyester in a  vintage style. You can wear it and catch eyes and receive the appreciation of others in the summer and spring season. It is available in beautiful patterns in different colors. The front slit adds a sexy look to the dress.
Floral print bohemian mini dress
If you want a beautiful dress that can keep you cool in summers also then this is the one for you. It is one of the cutest boho dresses that you can find in the market. You can look really pretty in it. There is a beautiful bohemian pattern printed on it which makes it nice wear for summers. The detailing of the border can attract anyone towards your look. There is also button closure given at the front which makes it easy to wear and dress down.
Hendrix Boho Dress
This femme and flowy gorgeous dress are a must-have in your collection. The bodice is fully lined and it has elastic sleeve cuffs. The pleating at the front is provided for a good shape.