Summer holidays are coming, that time of the year when we say goodbye to all the uncomfortable heavy and always difficult to wear clothes that have accompanied us throughout the autumn and winter season, and say welcome to comfortable, practical and simple clothes to wear: the time of rompers has officially come! I am talking about an item of clothing which is very similar to jumpsuits. I wrote "similar" because rompers have the same characteristics of a jumpsuit as far as the upper part is concerned, while they differ in being short in the lower part. They are a typical summery garment then, in which we can show our legs and wear any type of shoes and accessories. This suit will help us to get out alive during the hottest days without suffering because of the unwanted sweat. Obviously, each romper has its own characteristics and features that need to be combined with the right shoes and bags to always be at the top. So let's see the ways we can wear different types of rompers!
Perfect style for going to the beach
Bikini, straw hat, flip-flops, bag and our beloved inflatable flamingo to make the perfect Instagram shot. What is missing to all the things I have just mentioned? A romper to wear over our bathing suit, of course!
A walk during the golden hour
Speaking of Instagram, and more precisely of the time when all Instagrammers leave their homes for their shooting, here is the style that suits us best. As for the accessories, let's choose a very big hat that can't go unnoticed and full freedom regarding the shoes. Let's not forget a mini bag for our iPhone!
Last days of work
These are probably the last days of work before the holidays, and besides not being able to stand the traffic, all the commitments and our boss are not helping, giving us extra shifts to cover. And we must also endure the tremendous heat waves! Well, stop, here's the romper for us!
Wear them in denim
Denim is the colour of the year: let's put a lovely denim romper on, we will amaze everyone with an unusual and original garment!
With the puffy sleeves
DOFOTERLA ROMPER (MAROON)
The puffy sleeves trend continues, and I'm sure it will conquer us as the aliens do in those fantasy movies that our boyfriend watches. Let's run for cover and wear a romper with low heels, just like in the picture!
During a cocktail party and more
When we are invited to go out with our friends to go shopping, we will probably go to a cocktail party afterwards, and then maybe we will decide to have dinner in a restaurant, and then conclude with a drink in a pub or in a nightclub. It is absolutely necessary to wear a garment capable of making us face such a busy day! So I would definitely opt for a romper, perhaps by combining a pair of very high wedges!
In leopard print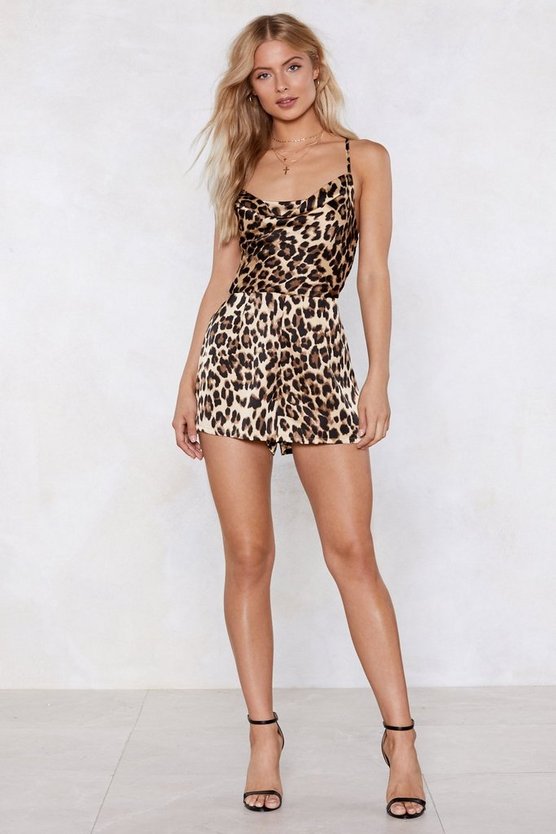 I love this print and we have to admit that something sexy is always needed in a list. Well, a romper in leopard print is the sexy garment of this list, wearable with our favourite shoes and black bag!
Walking with our puppy
It often happens that I go out with my dog during an evening because I don't want to leave him home alone, and it is always hard to keep up with him, especially if I'm wearing heels! But I found a nice and comfortable solution: a romper and a pair of sneakers!