It might be because of the memories of when our aunt or grandmother put those huge flower pots in their gardens or on balconies, but we have always been in love with flowers and their scents, so much that we now want to wear them at every opportunity. Floral dresses never get old, and especially from a couple of years. We must not underestimate them since they are at the moment a wonderful solution for all kinds of event. Let's go sift through a few that can be helpful on any occasion!
Wedding
I have already mentioned it in the title of the article… Why not? We will be not dressed in white so we will not hit the bride, and we will be clothed in something different and unedited compared to all the other guests, even the bridesmaids will be stunned. It is even better if floral dresses are long and tight in this case, combined with sandals or wedges in summer, some accessories such as necklaces and earrings and a not too elegant clutch bag. Split floral dresses are accepted as well, to make them more versatile and different from the usual.
Work
Obviously, we cannot put a dress with a deep slit on when we are at work, here we must pay attention to be sober and stylish at the same, respecting the professional dress code. Let's say yes to knee-length dresses, absolute freedom on the choice of shoes and accessories and let's not forget our bag. Let's add a belt to create a distinctive effect around our waist.
Nightclub
Here we need to look for a mini dress that highlights every single shape of our body and fits perfectly with the occasion. Slits and heels are not censored; indeed, they are more than welcome. Let's avoid long and loose dresses, we can risk ending up under everyone's feet, and I don't think we are going clubbing for this but for something else. Oh, and usually our friends do not have a backup dress and our bags are too small, so watch out!
PICK ME UNDERWIRED SATIN MINI DRESS IN RED
Shopping
We need to look for something fresh, not too demanding and that allows us to move quickly and without wasting too much time when we are inside the fitting rooms. If until now we thought that the colour to wear on various occasions was important, here it is no longer, so let's indulge our self with colours and give space to our creativity!
Date
We must not fall into banality, but the important thing is to be our self as much as we can, without pretending to be a person who does not reflect us for what we truly are. Let's, therefore, wear a simple and not too colourful floral dress: it is better if the colours of the background are black, white or beige and the flowers are colourful. Let's be careful not to overdo the accessories too much, yes to the handbag, but no to unnecessary jewellery.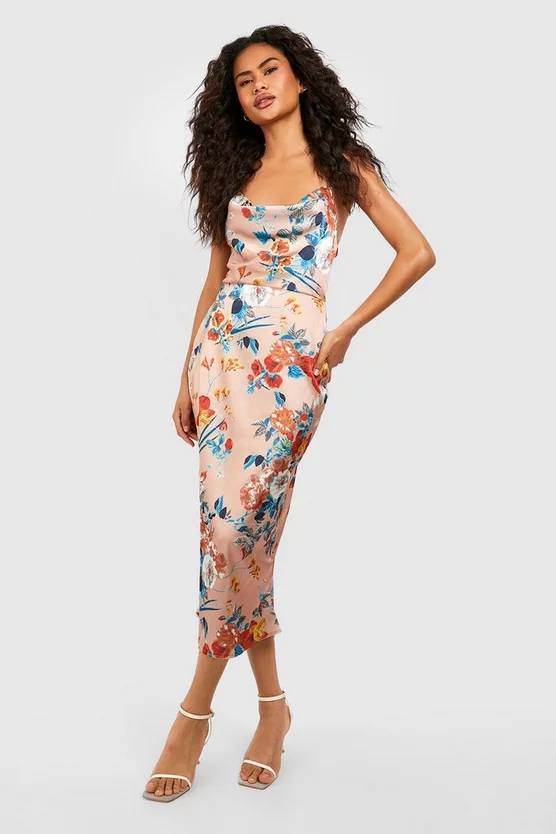 Prom
It is our last prom at the end of the year and we dream to be crowned at the end of the evening, just like in American TV series. We can find a floral dress for this occasion too. Here we will need something very pompous, with the right mix of colours between flowers and the dress itself and that fits us perfectly. Look at every detail of the dress and good luck for the award ceremony!