A maxi dress is a type of dress that covers most of the body and goes down either to the floor or to the ankle. Maxi dresses for women have been present in the market for several years now, but they have been coming up in several new styles every year. This makes them unique and keeps the attractiveness of the dresses intact. The styles are quite comfortable and this makes it possible to wear them for long durations in spring and summer. Here are a few of these unique styles: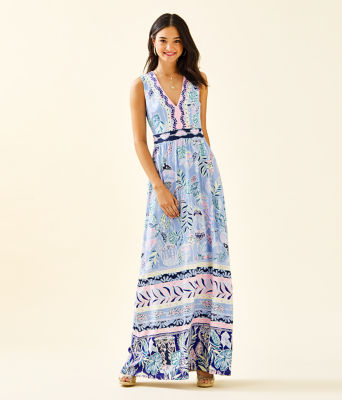 Beautiful ¾ Sleeve Vintage Wrap Maxi Dress 
These dresses come in a variety of sizes, designs, and patterns. One of the biggest advantages of such a type of dress is that it suits most women. In addition to this. The ruffed detail of the dress makes these Maxi dresses even more feminine.
Women's Casual Loose Pocket Maxi Dress
These dresses are extremely casual and comfortable. A woman can easily wear it if she has to go out of her house for any work on a lazy Sunday afternoon. In addition to this, the dress also has pockets so that the lady can keep the necessary items in her pocket. These characteristics make the maxi dress a must for the wardrobe.
Hot floral Ruched Front Maxi Dress
The dress looks quite elegant due to the low neckline. The dress can be worn in different types of family ceremonies, marriages, etc. If the dress is worn with proper shoes and jewelry then it will certainly raise a few eyebrows at these ceremonies.
Seductive Women's Lace Mesh Maxi Slip Dress
This type of dress is ideal for evening parties. The lace detailing and the hemline make the dress a unique product. If you go to a party wearing this dress then it is sure to turn a few heads towards you. In case you feel the dress is too bold you can wear it over a swimsuit. The comfortable nature of the dress means that you can easily wear it during winter.