It's never too early to start planning for the beach day of your dreams: the sand between your toes, the sun warming your skin, and a stunning beach dress as the perfect complement. With the summer of 2023 well underway, now is the ideal time to get the wheels in motion. This year's beachwear fashion trend encourages options that offer a balance between comfort, functionality, and elegance, perfect for any and all of your beach day activities. Whether it's a relaxing picnic with that special someone or a wild game of beach volleyball with friends, there is a beach dress out there for every occasion that will keep you looking stylish however you decide to enjoy the sun. Today, let's take a look at the five beachzilla looks set to take this summer by storm!
#1: H&M Drawstring-Detail Dress
If you're looking to make a statement at your next outing to the beach, then the Drawstring-Detail Dress from H&M may just be what you need. It offers a modern twist on the traditional beach dress. This outfit is composed of lightweight, textured double-weave cotton fabric and features narrow drawstrings at both the shoulder and waistlines, which come together to form a visually striking ensemble. The dress provides an ideal balance of fashion and comfort with its V-neck and gently flared skirt, while the unlined construction will keep you comfortably cool even in direct sunlight. All of which make the Drawstring-Detail Dress an unforgettable standout on the beach.
#2: Free People La La Maxi Dress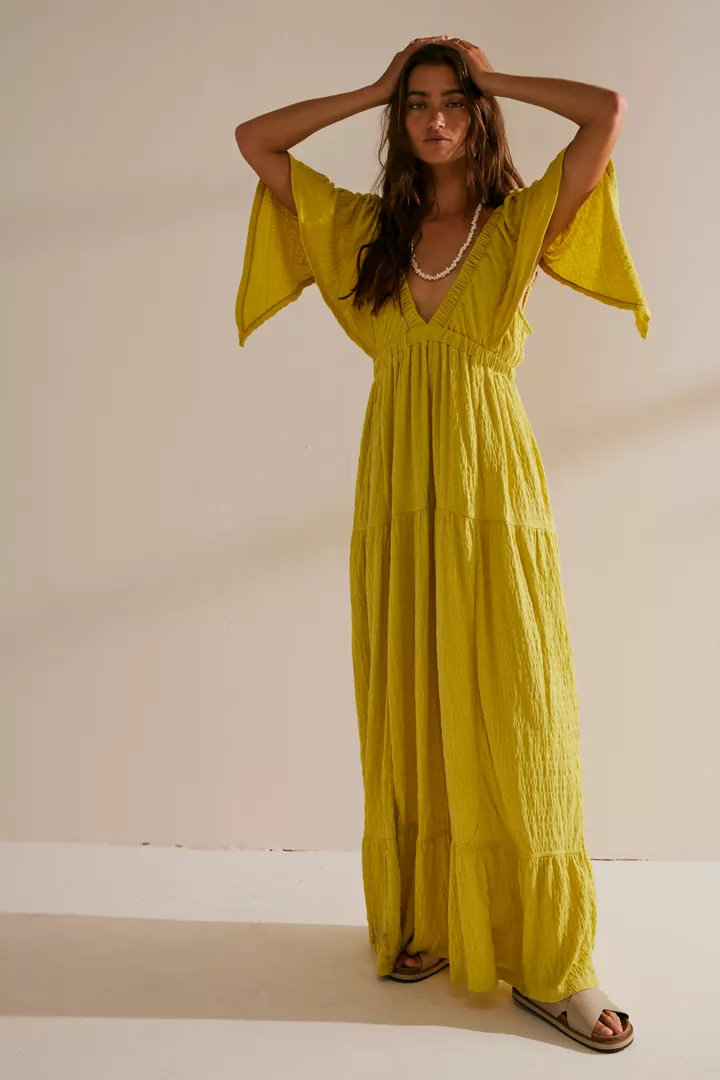 When it comes to effortless, timeless fashion, look no further than the La La Maxi Dress from Free People. This standout maxi dress comes with a flattering V-neck swooshy tiered silhouette and playful flutter sleeves, bringing a soft, textured sophistication to your wardrobe. With a cinched silhouette further emboldened by an elastic empire waist, you can always make sure your look is comfortable yet oh-so stylish. Perfect for a calm beach promenade or an afternoon spent in the sun, this maxi dress ticks all those boxes for a beautiful, on-trend look.
#3: Solid & Striped the Eyelet Amelia Dress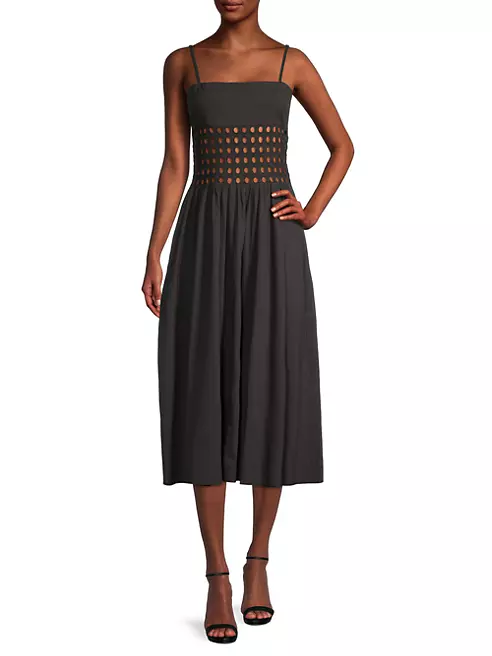 Ready to leave your mark and set the beach on fire? Get the Amelia Dress from Solid & Striped! Crafted from lightweight cotton, this midi dress features an eyelet embroidered waist and adjustable straps, providing complete comfort and full coverage. Its classic square neckline completes the alluring silhouette and stylish vibe. Whether dressed up for a night out or dressed down for the beach, the Amelia Dress is the perfect summer wardrobe piece that you'll reach for time and time again. Make a statement, and stand out from the crowd with the elegantly designed midi dress – and get ready to light up the ocean!
#4: Farm Rio Blue Painted Birds Maxi Cover-Up
Women's summer wardrobes all too often follow the same pattern of basic cover-ups. Don't blend in. Make a statement with Farm Rio's Blue Painted Bird Maxi Cover-Up. Its unique hand-painted artwork and full, tiered ruffle skirt design make this eye-catching, beautiful piece stand out from the rest. With its deep V-neck and adjustable spaghetti straps, this cover-up offers complete comfort and a great fit while giving you a naturally glamorous silhouette. Official your summer beach looks with the Blue Painted Birds Maxi Cover-up from Farm Rio; turn those heads and feel the delight of actualizing amazing style.
#5: Reformation Aubree Linen Dress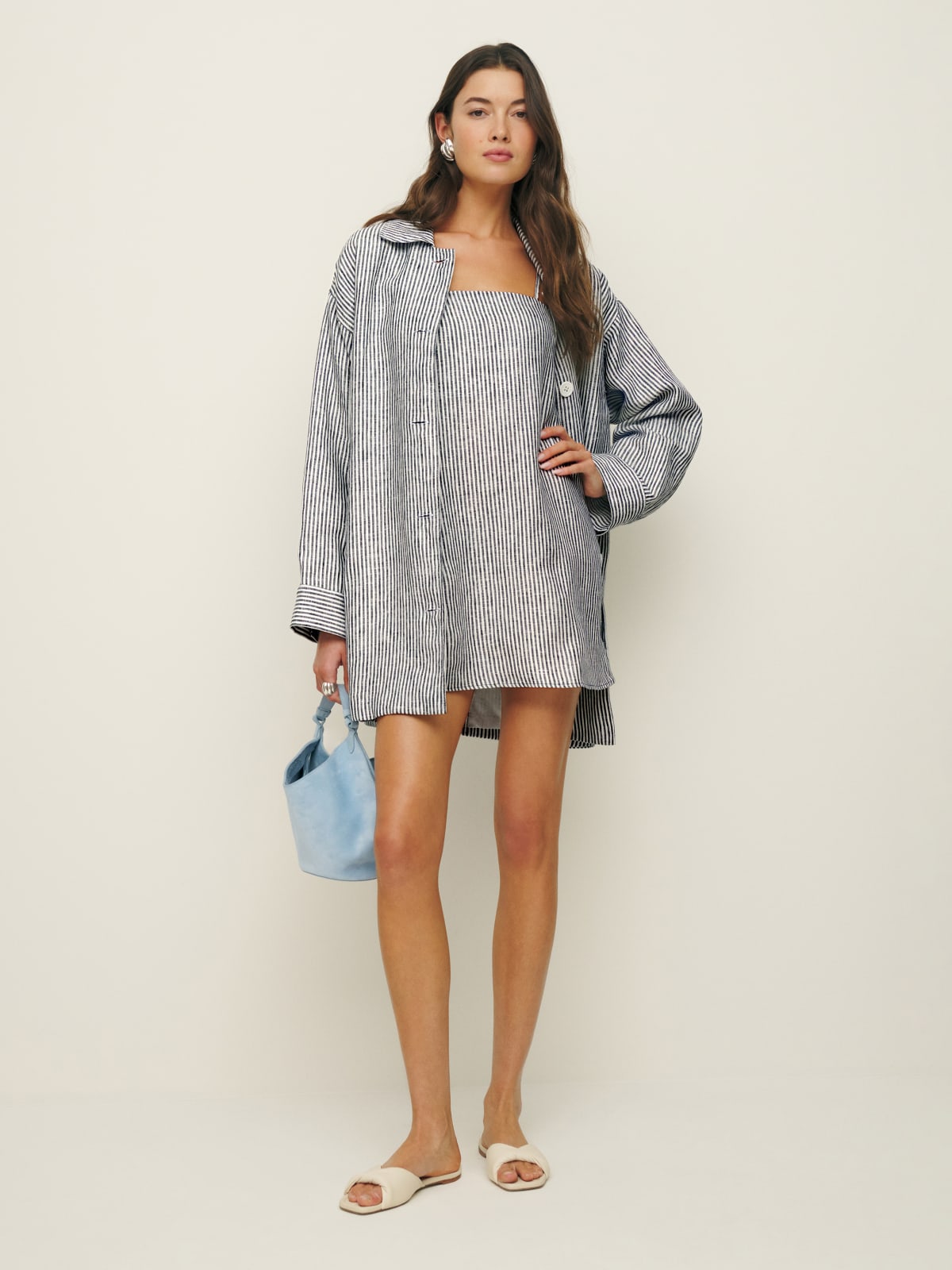 Last but certainly not least, the Reformation Aubree Linen Dress should be part of every beach wardrobe. Timeless and elegant, it is made with 100% linen and comes with a simple yet stylish silhouette complete with an adjustable tie neckline and cap sleeves. And with its relaxed, airy fit, it's the perfect way to stay looking fashionable while keeping cool on those hot days on the sand. The dress features bright, natural colors inspired by sunlight and waves that effortlessly blend comfort and style for that perfect beach day look. Bring beach fashion redefinition to the next level, and be ready to stand out with a splash of sophistication thanks to the Aubree linen dress!
So, don't be afraid to try something different this beach season. With the right pieces in your wardrobe and a colorful attitude, you won't have any problems feeling fabulous and looking fabulous at the same time. From florals, stripes, and daring prints to romantic ruffles, tie straps, and timeless designs – there's something for everyone out there. Get creative and make the beach your own runway!