We all know that celebrities often spot different hairstyles. You may see your favorite celebrity strutting down the red carpet in a long wavy hair and next thing you know, the same celebrity will be spotted with sleek bob at a concert. Iconic celebrities often cut their hair to match their moods, seasons or trend, from long to short and sometimes even back to long with the help of extensions.
Are you a big hard fan of Rihanna? Known for her inspiring music and chic style, Rihanna is basically a hair chameleon who changes her hairstyle on a regular basis. She is a fashion icon, a diva on the red carpet and is known for her quirky and unique style. Rihanna first entered the music industry in 2003. Some may think that she changes her hair style almost as often as her outfits. This Barbados-born musician is very willing to play around with her look has been spotted with bold bobs to red punk pixies. Since her debut, she has worn almost every hairstyle imaginable. She was quickly becoming the queen of beauty transformations.
Scroll down to see some of Rihanna's trendiest short hairstyles which are going to inspire us to break out of our comfort zone and try something new.
Side Swept Red Pixie
In 2010, the singer debuted with a fiery shade of red pixie hair. This style is definitely for women who are bold and always on the go.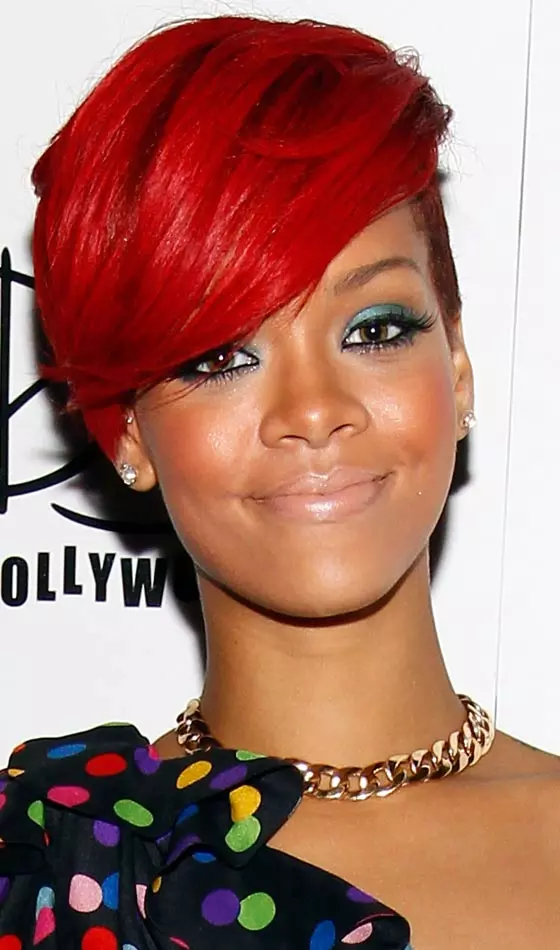 Asymmetrical Bob
Rihanna's black, asymmetrical bob was synonymous with the catchy Umbrella tune.  This sexy-longer-in-the-front and shorter-in-the-back hairstyle is fresh looking. She looked fantastic in this sexy concave cut which featured sharp pieces falling towards the front and this hairstyle draws attention to the eyes.  It has a very dramatic look and shape.
Short Bob with Bangs
Rihanna came back with a sexy do in 2007 and this was definitely a head turner. Her hair was cut into a choppy, chin-length bob and edges were added to create a solid finish. Bangs are a great option to cover a high hairline.
Short Blonde Hair
Dyeing her swooping hair a golden shade of blonde signaled the birth of Bad Gal Riri .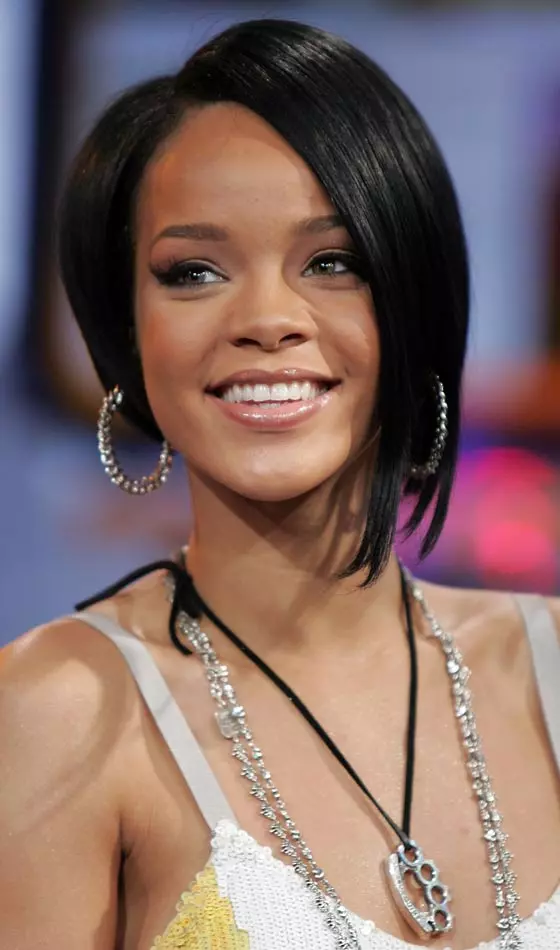 Black Pixie Cut
Rihanna went back to wearing a dramatic new short hairstyle that makes her look like a modern day Betty Boop. This pixie-style cut is feminine and looks great with her gorgeous features. The natural black hair color looks flawless with her latte complexion.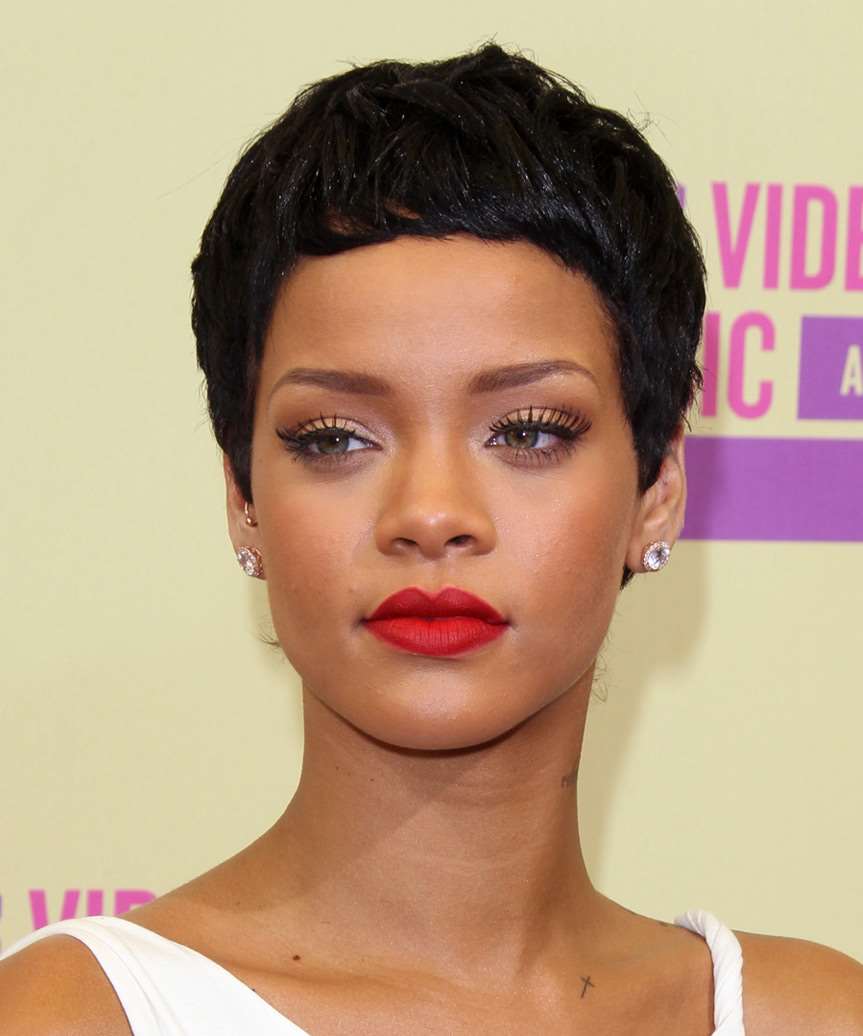 Short Straight Black With Razor Cut Bangs
Rihanna's hairstyle has plenty of edge with textured layers all over. The top layers are jagged cut with the bangs sitting unevenly with a little height.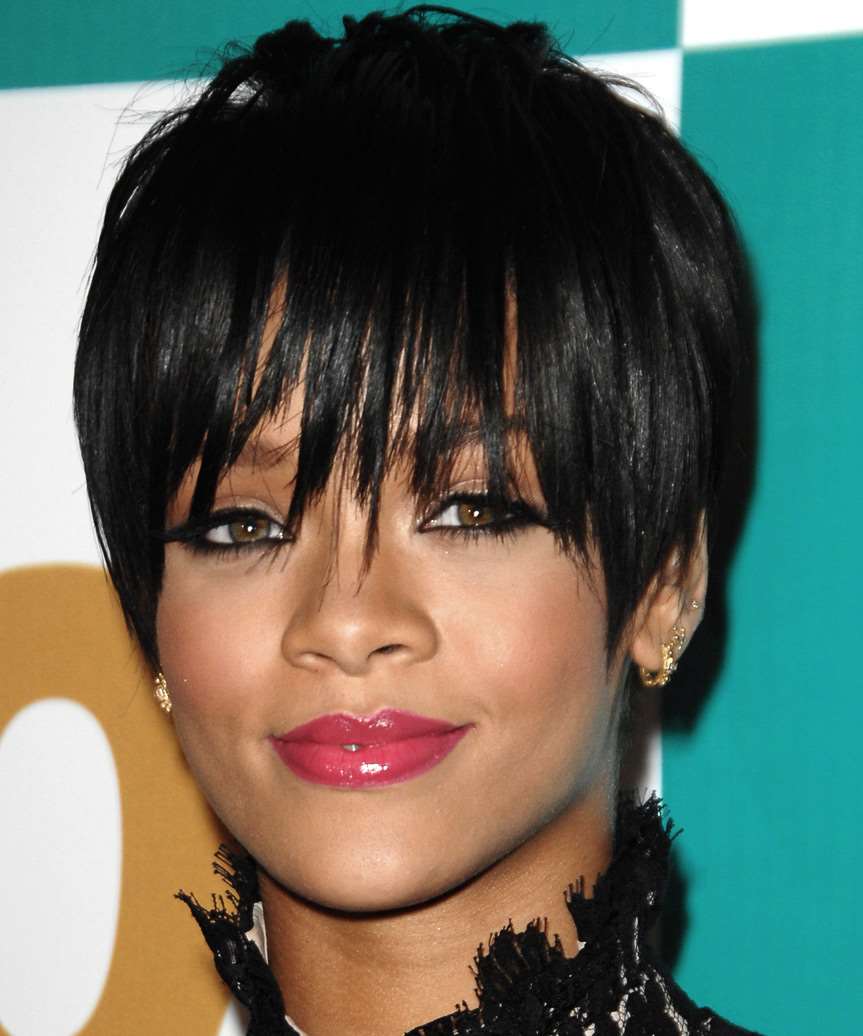 Center Parting Bob
This style is neat, straight and face framing. Rihanna's bob hairstyle suits round oval, square and heart shaped faces. This straight forward hair parting is both ideal for up and down hairdos.
Curly Black Hair
Rihanna showed off the different ways her very sexy concave bob can be styled. This cute look is great for shortening the look of a longer face shape. The hair at the sides of her face featured soft and bouncy curls for a great formal look and also add shape to a long, thin face shape.