Every fashionista out there knows that no winter outfit is truly complete without warm, comfortable, and stylish shoes. From edgy sneakers to feminine high heeled boots, there is something for everyone to choose from. In fact, you should probably own a couple of different types of winter shoes to make the cold season more fun and interesting.
If you feel a bit overwhelmed with a wide selection of styles and colours available on the market, don't worry! We created a short and useful fashion guide that will help you select your favourite boots for this season and combine them with the items you already have in your wardrobe.
Have a look at our selection below!
1. Comfortable everyday boots
For those who put comfort over fashion, there is nothing better than having a pair of flat boots for running around town and doing daily errands. Choose a cute version
with white or cream fur – you will stay warm even in the coldest winter weather. Pair them up with skinny jeans, leggings, or even more elegant office-style pants.
2. Short high-heeled boots
For every night out, there is a suitable pair of fashionable short boots: classic black, gold, silver, purple or white – the options are endless! Wear your boots with warm tights that match your outfit and you don't ever need to worry about feeling cold.
"Winter is also a great time to make your outfit more interesting and to play with patterns, colours and textures. It is also amazing how you can wear tights and combine them with lighter clothes that you are not ready to say goodbye to yet.
Tights can be very cheap and the good thing is that they will help you wear your fall skirts and dresses longer. However, bear in mind that the colour of your tights is very important. Since it is winter, it would be good to either opt for brown or dark brown, or dark grey and black (which is probably the best option)." – Claire Hastings
/ Fashion Studio Magazine
3. Stylish over-the-knee boots
This sexy winter option can be combined with skinny jeans, leggings, shorts, skirts, and dresses. Wear your flat boots during the day and high-heeled version for en evening out.
For everyday style we recommend classic colours such as black, brown, grey, and purple. For an evening out, feel free to choose something more interesting such as gold, beige, wine red or electric blue.
4. Après ski boots
Super cool option that can be worn not only in the mountain resort. Pair yours with skinny jeans and a metallic puffer jacket or long furry coat.
This choice of winter boots is perfect if you intend to walk a lot (highly recommended as winter activities and spending time outdoors are one of the main factors of staying fit, healthy, and having a lot of energy) or when it's snowing. Remember than being truly stylish is the matter of wearing clothes suitable for the occasion and according to the weather conditions – some people tend to forget that.
If you would like to glam your look up, go for silver, rose gold, or metallic blue boots. If you wear them with cream faux fur coat and matching accessories, you will look fantastic!
5. Cool sneakers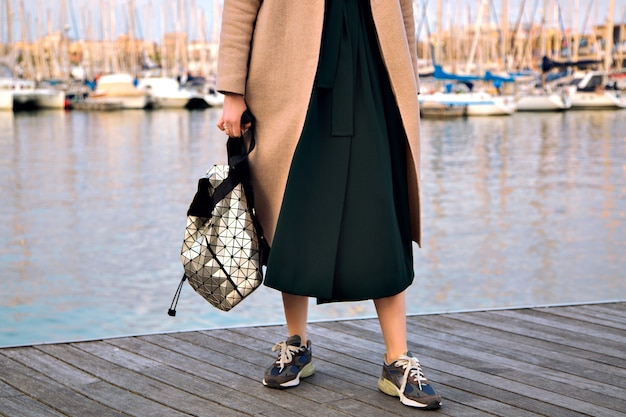 Sneakers can be worn throughout the whole year and don't need any special recommendations. With so many styles on the market, it's easy to choose the style that will be suitable for colder winter days as well. Wear them with a puffer coat or a maxi dress and a sporty faux fur jacket.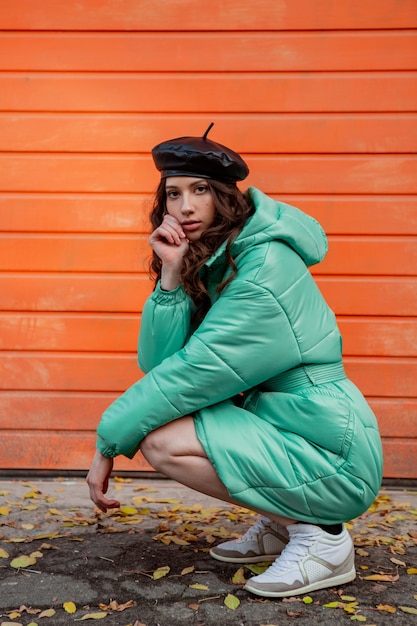 All about colour & print
When it comes to the colour palette of your winter accessories, especially shoes and handbags, make sure you have a couple of basics in your closet. Dark colours are always very practical and easy to wear with other colours. We recommend black, grey, midnight blue, and snake print in dark green.
Don't be afraid of colour and animal print this season. When everything around is grey, brown or white, sometimes it's good to add a splash of colour reminding us of happy summer days. Energise your look with bright red boots or go for glamorous silver / gold look.
Have fun! With a bit of imagination and courage winter fashion doesn't need to be dull and boring. On the contrary, it's an amazing season to come up with some unique outfits and to create a very personal wardrobe that will reflect your style and personality. Remember that clothes (and shoes!) have more significance that we normally think. They can boost our mood and self-confidence, make us feel more energetic and also impact the way other people see us. Fashionable winter boots are a good start to survive this winter in style!