The A-line dresses are in trend and most liked as they can minimize the thighs, midsection, and hips. It is most flattering and fit for every body type. It is available in various colors and styles. It is comfortable to wear and makes you look sexy, beautiful, and cute at the same time. Here are some trendy A-line dresses that you can get.
Strapless skater A-line dress
This mini length skater dress comes in an A-line pattern. It has a fitted waist and flaring skater skirt. It is a sleeveless dress with strapless bodice and a mini hem. It is fully lined and comfortable to wear. It also has a hidden zip at the back. You can pair this flirty little dress with a matching clutch and heels.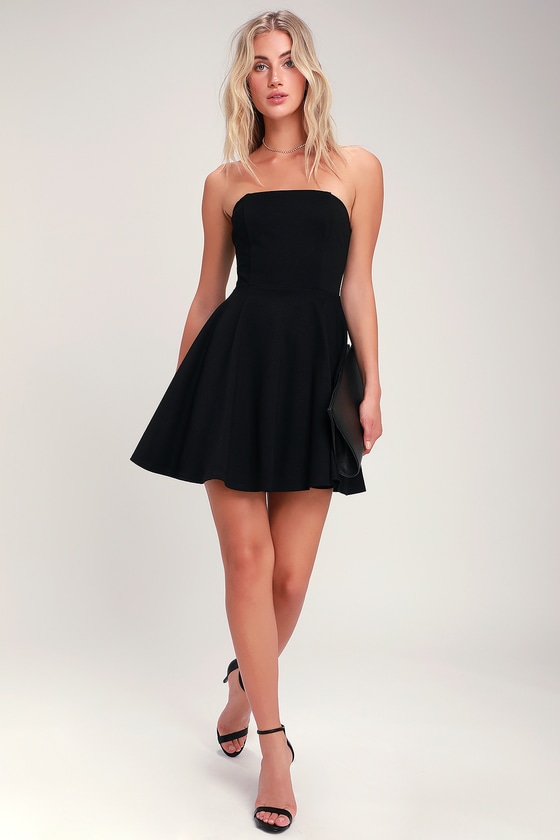 Frills wrap tea A-line dress
It is mini length A-line dress with leopard print and polka dot pattern. It has a deep V- neckline that shows your sexy clavicle. It has flute sleeves and a wrapped waist with frill detailing at the end of the dress. It allows showing your shiny legs. It is a lightweight dress and comfortable to wear. You can pair this dress with strappy high heels and matching mini bag to complete your beautiful look. You can also wear a cap for the coolest look.
Chiffon ruffles A-line skater dress
It is a midi length dress. The deep V- neckline and broad shoulders with ruffles on both sides enhance the looks of this dress. It has a loose fit dress with tied waist. You can complete your look with high heels and matching heavy earrings. You can comfortably wear it for full day long.
It is a regular fit soft textured mini length dress that gives you a high level of comfort after wearing.  It has a cold shoulder with a V- neck that allows showing the beauty bone. It has puffed sleeves and a corset-style waist that will look more attractive. It also has a zip at the backside that makes it easy to wear.
faux suede scuba cupped corseted a-line mini dress
Charming A-line gown dress
It is a full-length A-line gown. It has a bateau neckline with straps at the shoulders. It is fully lined with four bones in the bodice. It also has a chest pad for perfect fitting of the bust. It is tightly fit up to the waist and flared below the waist and it also has frills. Its shiny look makes it perfect as an evening or prom dress.