If you are confused about various fashion trends of 2020 look no further. If you are looking for something trendy you can go with the balloon sleeves in your dress. These sleeves balance the look especially if you are plus size women. These sleeves can be of mesh or solid material depending on your preference. You can go with the large volume sleeves if you want something dramatic. For the casual purpose, you can choose medium volume in your sleeves to get a stylish look.
Pleated Balloon Sleeve Blouse
The faux feather cami top can make you look more attractive and royal. These feathers on top and dresses can make you look more enhanced. Choose lighter colors if you are going for this category. The lighter material will pop out the feathers clearly making it look more beautiful. You can wear the feather top with any high waist trouser to complete the glamorous look. You can also go for the casual look with this top if you pair it up with the denim crop jacket or moto jacket in solid black color.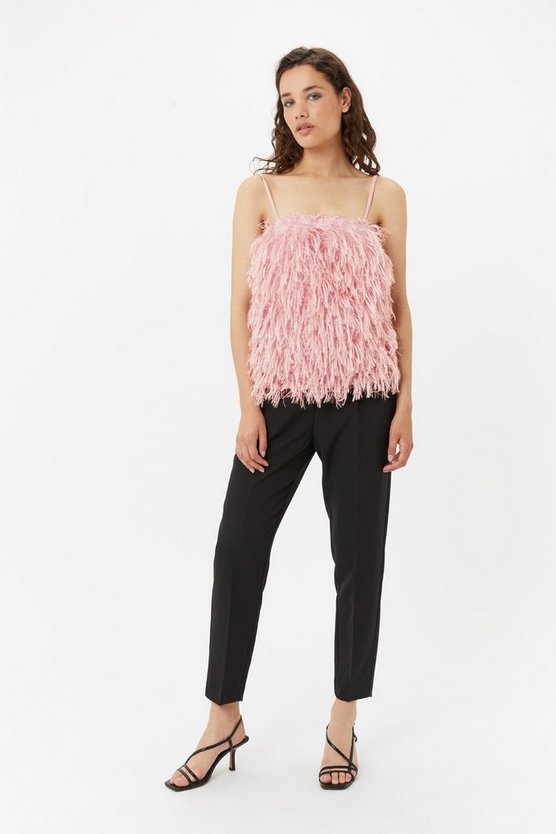 Mesh is the amazing trendy material in the clothes. You can go with the long mesh cardigan to layer your outfits. Layering can make any dress look more enhanced. You can choose the size of the mesh according to your preference. Some women go for the fishnet in the larger mesh designs. If you are looking for the perfect casual look you can go with the smaller mesh material in the cardigan and pair it with your favorite jeans and crop top.
The trend of high low dresses is very popular among girls. You can go for the ruffled high low dresses to get more details in your look. Select the medium volumes of ruffles at the bottom of the dress to get a beautiful look. You can also select various colors in these dresses. Many women go for the floral prints in these dresses to get the perfect summer look.
There are various crop tops available in the market but one of the most trending tops that you can go for is a one-shoulder crop top. These tops can be paired with any bottom and give you the street style look instantly. You can enhance the look by pairing this top with some dainty jewelry pieces and you are good to go.