Latest and trending fashion for the women
Women have always been into fashion and they always look for fashionable clothes. The designers are always working to meet the demands of the women. In the latest and trending fashion of the women, you will find the crop tops. The crop top with buttons is one of the best looking crop tops available for the women. It makes you look stylish, fashionable as well as elegant and gorgeous. The buttons in these tops are usually at the front, but some crop tops also have the buttons at the side and it looks very stylish. You do not require any other fashion accessory to pair with this top (except for pairing it with suitable bottom wear) as it alone can make a huge fashion statement. However, many women may find great difficulty in selecting the right bottom wear to pair with their crop tops. Also, you may not know the many ways that you can wear with the crop tops with buttons.
The right length in the buttoned crop top
The crop tops are usually short in length and that is why the name 'crop' is also associated with this top. However, you will find the crop tops which are just meant to cover your bust area and these are very short in length. You will also find crop tops that are larger which covers much of your body but reveals only your belly button and the slimmer part – your waistline. A tight fitted buttoned crop top will look good on women who have a slimmer body.
Layering the clothes with the buttoned crop tops
The crop tops are very exposing and short and thus, many women may not feel comfortable to wear it alone outdoors. Thus, you can wear crop top with buttons by layering it with a jacket, shrug, etc. Layering any clothing is very advantageous as you can remove and put on the upper layer as and when you wish.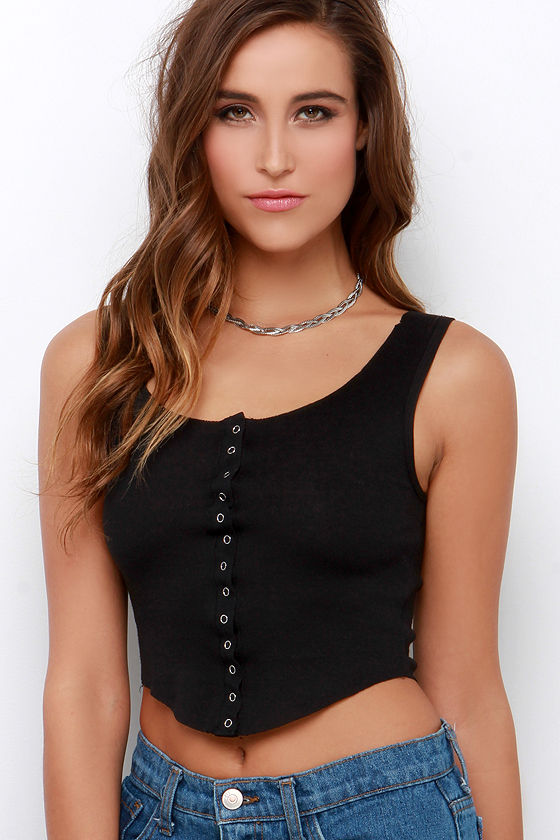 Choose the right skirts
Crop tops expose much of your belly portion and thus you need to pair it with right bottom wear so that it looks good on you. You can easily pair your buttoned crop top with skirts. Skirts of different lengths are available for the women and you can choose the length in which you are comfortable. You will find short skirts, miniskirts, long skirts and even midi skirts. You can also match the print and colour of your crop top with the skirt and it will make a great look.
Pair your crop top with shorts
Another bottom wear that matches well with the crop tops are the shorts/hot pants. You can wear this combination of crop tops with hot pants casually.