Many people, especially pop culture lovers are looking for inspiration for their outfits not on fashion weeks, but on their celebrities. Unfortunately, most of us not only can't afford their red carpet clothes, but have no reason to wear them, many celebrities are so tired of wearing uncomfortable crazy clothes that during their day off they prefer very simple and relaxed outfits, but, some are real fashionistas, like Taylor Swift.
 Also, it's not a secret that basically all red carpet or just special event looks are created by professional stylists, hairdressers and makeup artists. Usually, if you are a big celebrity, designers propose you to wear their clothes for future events like Grammy's red carpet. Yes, most of the big movie and music stars don't pay for their fancy designer dresses and suits, they actually promote new collections of the brand.
But would you agree it is more interesting to look at street style outfits made by our favorite famous musicians, actors e.t.c. with any help of professionals? It is so interesting to look how people that inspire us match clothes, what colors they like what their favorite styles in clothing and if that is too different from what they wear to the shows and concerts.
Taylor Swift is one of those people who we associate with autumn and winter fashion. Especially, in the last few years when she dropped their music albums that are extremely cozy and made for listening during walks under the rain or when it is fluffy snow outside. So let's see what this music queen wears during such weather!
Have you ever thought about wearing not only a total one-color outfit but a total one-print outfit? Look how it looks absolutely the coolest. It's quite a simple idea but a very smart one. In recent seasons it is really popular to wear 2-3 pieces in one print, so we don't think you will be having problems with finding such pieces. Your challenge is to find the shoes with the exact print and color. Good, we live in the era of the era so we are pretty sure you will find those shoes, but even without them, such suits look really, really stylish.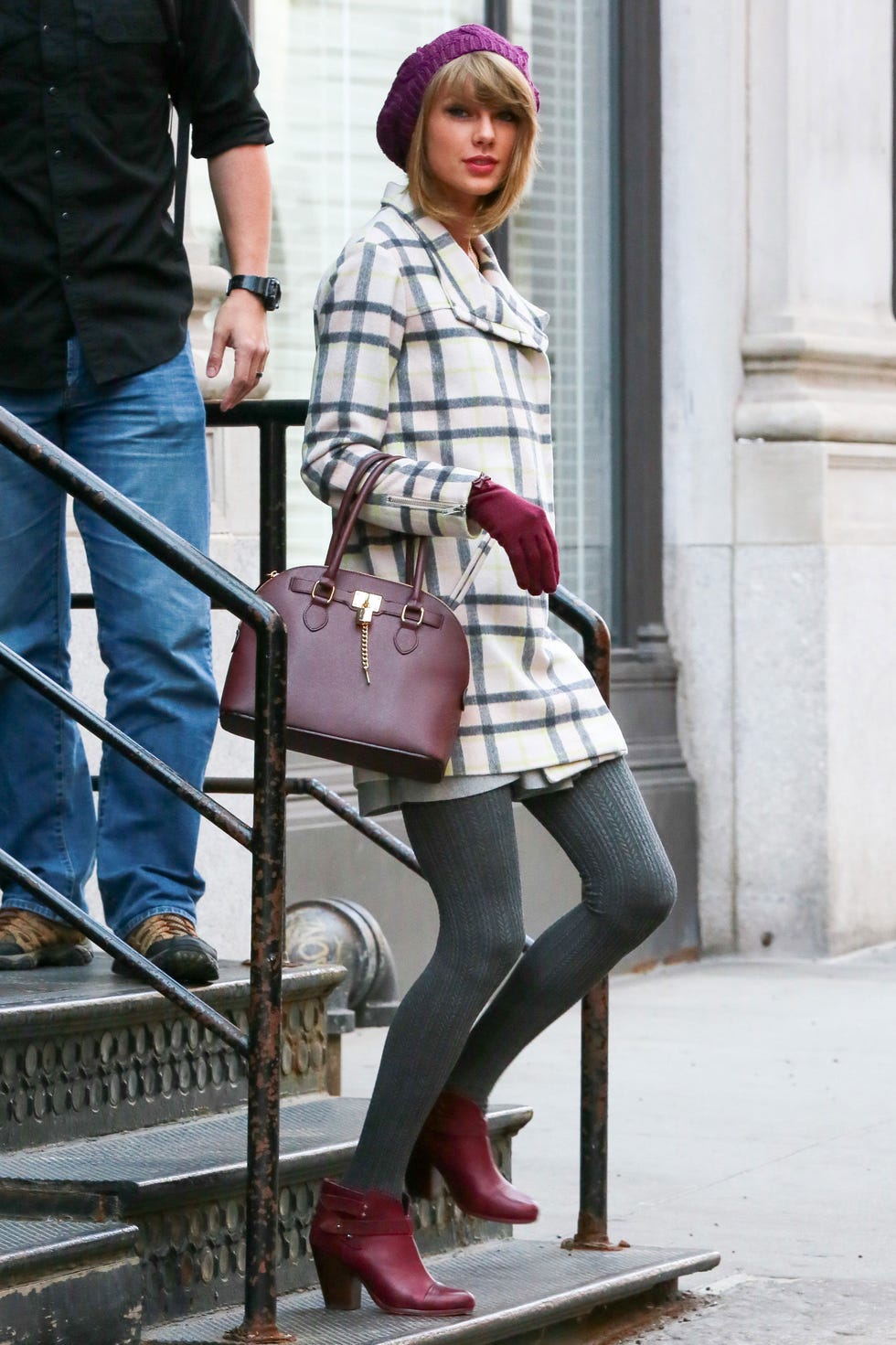 Another cool outfit idea we could steal from Taylor Swift is color matching accessories, the good old fashion trick that never fails. Taylor decided to wear a matching bag, gloves, shoes and a purple beret is having very similar shade too, so it's perfect for the look.
For the base of the outfit, the songwriter and performer warm grey tights, white costs with grey check lines and you can even notice bottom part of the grey skirt.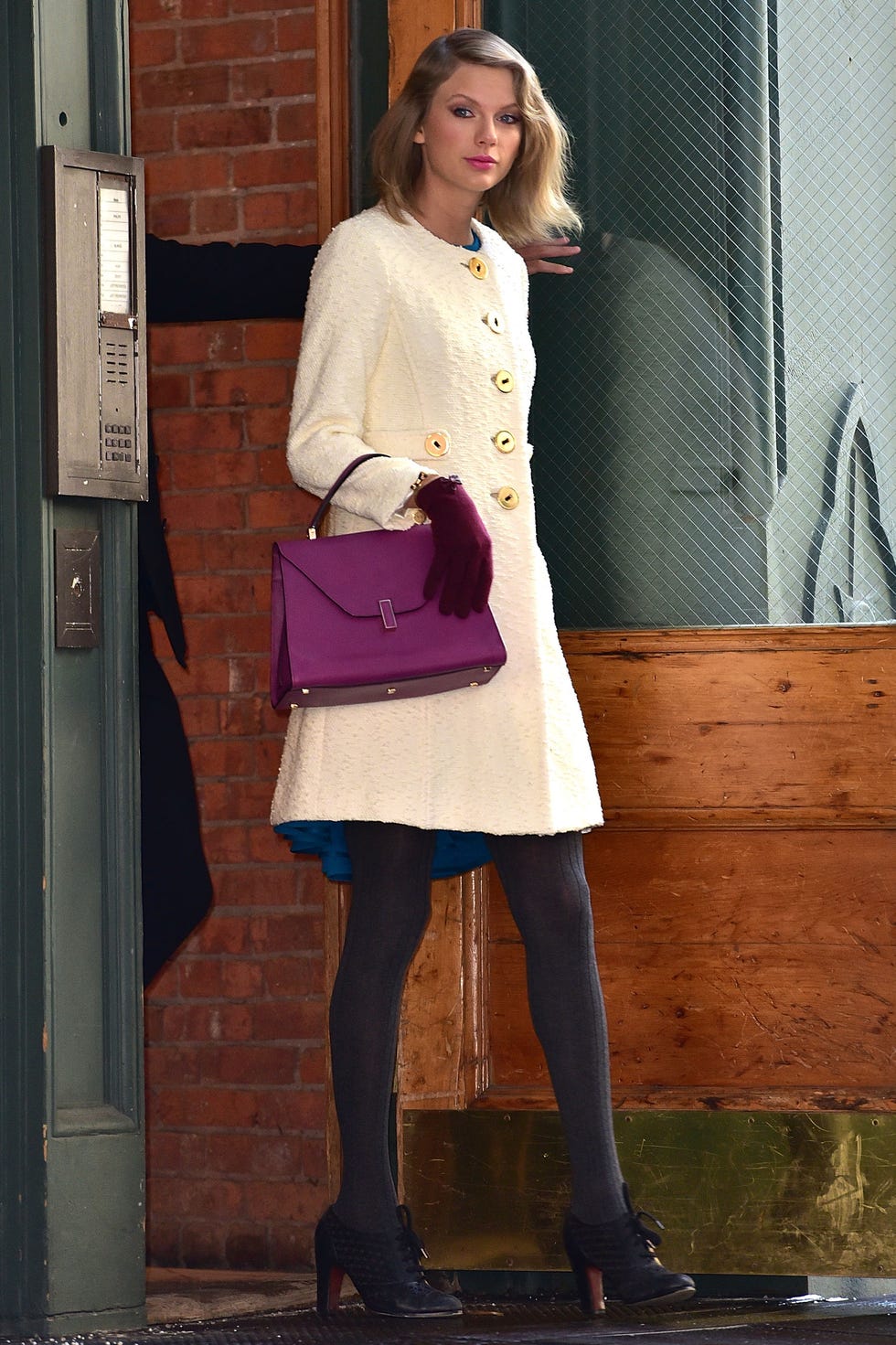 In this look Taylor again wear the similar shade of a bag and gloves. Notice how this bag is quite look alike the previous bag. Must be one of her favourite types of the bag. They definitely are very elegant. And the royal style white coat with gold buttons make it even more elegant and expensive looking. Such style will never be old-fashioned.
This outfit gives the video of her Reputation album. It's more casual than the previous ones and good for everyday. Especially lovers of rock style in clothing will like to wear it. Black tigh jeans, a leather jacket and black boots is grunge classic.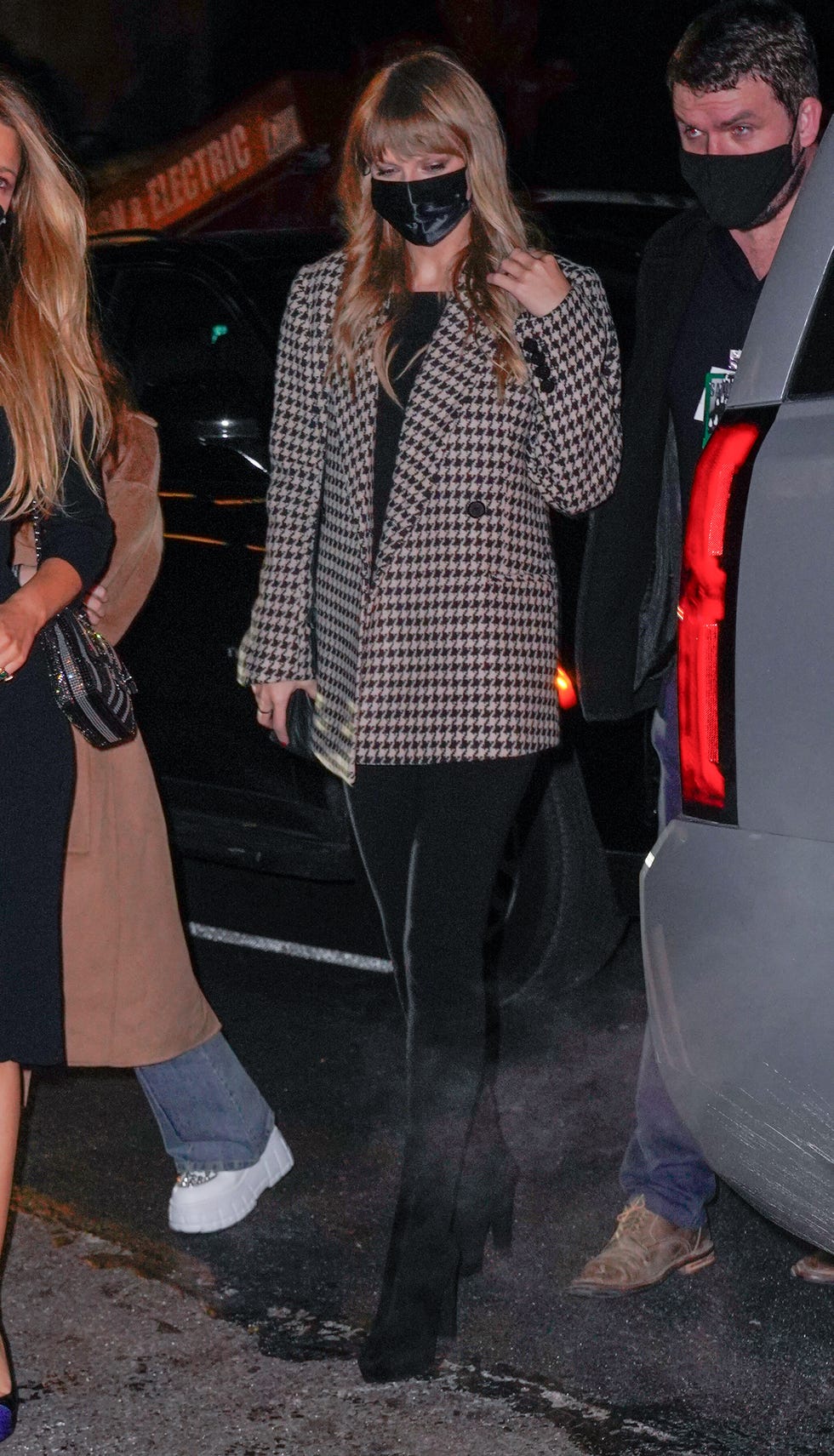 Our personal favorite outfit. Seems like the popular singer loves similar jackets and coats. Looks even better with velvet super long boots and a velvet face mask.
Black and beige are a perfect but not banal color mix. Looks classy and rock-'n'-rolly in the same time. By the way, red lips are perfect for black outfits.
Probably the coziest and most casual outfit of all mentioned before in this article while still looking super cute and girly.
Look at the cat dress. If you're a fan of Taylor Swift's music then you must know she is a huge cat lover and owns a few of them. They see how such a small detail as a scarf can change the whole vibe of outfits. This warm long scarf gives us cozy fall vibes, for sure. The interesting bag of brown color is made for the colder season!
Hopefully, our guide to Taylor Swift's street style during winter and fall was helpful for you and found some inspiration for your warm outfits!