When one talks about the best autumntime wardrobe essential, our favorite jeans immediately find a place at the very top of the list. Not only are they the most comfortable clothing, but the perfect casual outfit that we can style with almost every other top.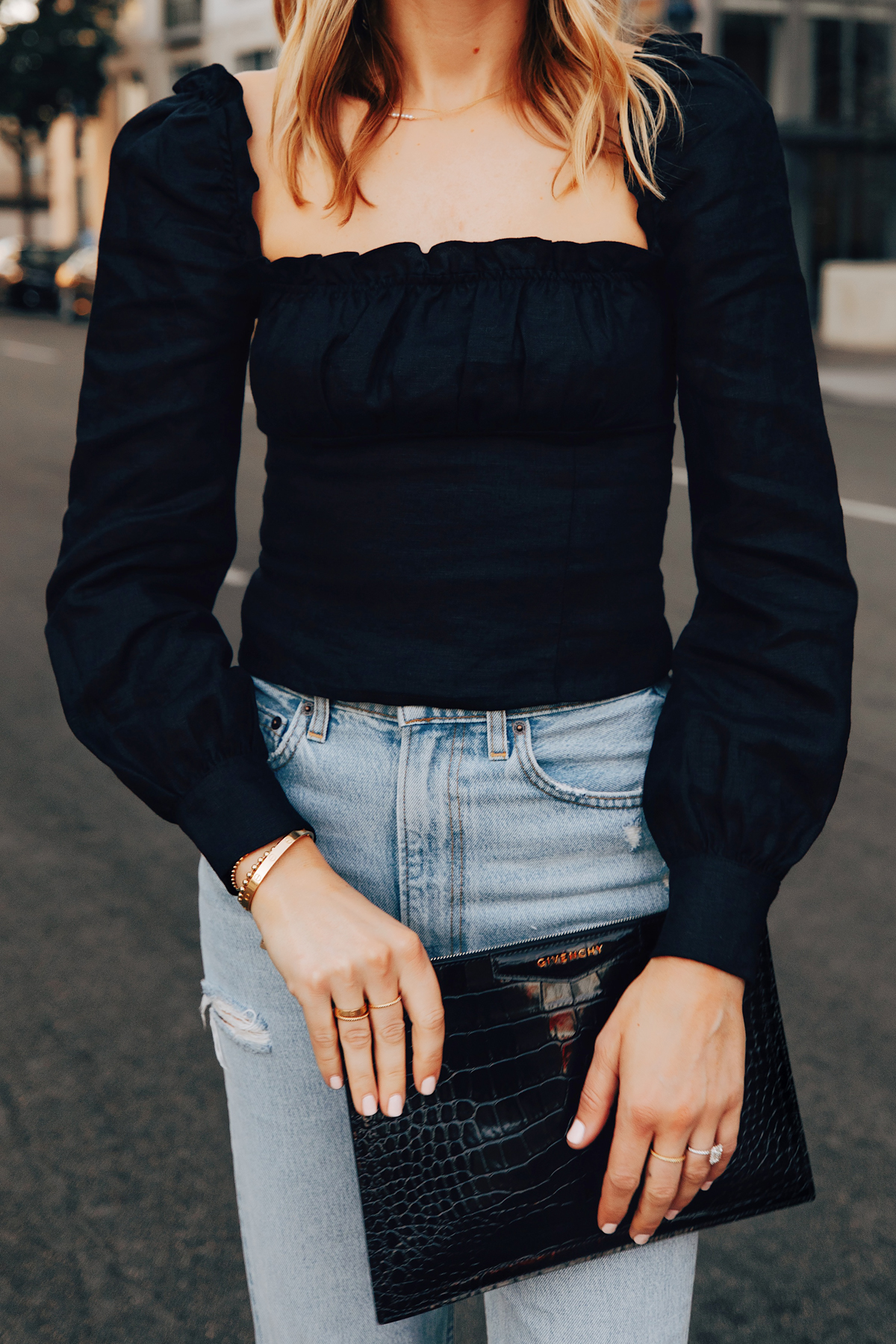 Moreover, you can flaunt the same old jeans ripped or not, and yet throw a new and fashionable look every single time by pairing it with the right kind of top.
The following are the trendiest tops that you can try on this autumn while pairing them with your classic, old jeans!
1 Lace tops:
What is more comfortable and trendy than the classy lace tops that fall so aesthetically on your skinny jeans.
You can style your ripped, skinny jeans with a nude lace top and complement it with accessories that accentuate your autumn outfit.
2 A plain, white T-shirt:
Do you have to attend a sporty event or a casual hangout with your gang and are wondering how to keep it plain yet classy? A white T-shirt tucked into your black ripped jeans will give you the chicest and yet the most sporty outlook. A nice pair of sneakers and minimal accessories will further add to the show.
3 Ruffle tops:
Stylish and fancy? Ruffle tops are what you've been looking for. We can never get enough of the size and number of ruffles on a ruffle top as any kind of its compliments stylishly with your favorite jeans. The best part about this top is that you can complement it with the brightest colors and yet not regret the outcome.
For a more satisfying look, try a yellow ruffle top with dark blue skinny jeans and enjoy the wonders it can do to your fashion style.
4 Off-shoulder tops:
Off-shoulder tops are always a mainstay of one's wardrobe especially in the scorching, autumn time where less coverage is always the best option.
You can either tuck in your off-shoulder top into your jean or wear an off-shoulder crop top as both of them can guarantee you a sassy and sexy look.
5 Bow tops:
Want to attend a classy evening dinner but you're already tired of the dresses and skirts? You can pull on your black skinny jeans and pair them with a classy bow top that will not only add to the elegance but also give you a more relaxed evening vibe.
6 See-Through tops:
A See-Through top is the best piece of clothing that you can use to flaunt your sexy body and still look casually stylish. A See-Through top if anything, adds to the elegance and beauty when paired with jeans.
In addition, accessories can add tremendously to the sassy outlook that makes you a complete autumn fashion package.  
7 A black shirt:
A black shirt can never go out of fashion and only adds to the sexy attire when paired with blue jeans. It is the best thing that you put on when going for an easy-going hangout or casual autumn evening dinner.Read more here.