Bella Hadid is an American model and the daughter of Palestinian real-estate developer Mohamed Hadid and Dutch former model Yolanda Hadid (née van den Herik). She made her first official fashion week debut at Tom Ford's Los Angeles show in February 2015 at the age of 18. It wasn't until the following season that Bella secured the covetable catwalk spots in all four fashion capitals and become a star. In 2016, she was voted "Model of the Year" by industry professionals for Models.com.
Bella Hadid is Gigi Hadid's sister who is also a model and was named International Model of the Year by the British Fashion Council. She may have been introduced to the fashion industry as Gigi's younger sister, Bella has been making a name for herself although she may have started out a little later than her sister when it comes to appearing in top runway show for major fashion houses. She has been very successful in the last couple of seasons and thus, big things are going to continue for her in 2021. Bella does not bask in the shadow of her beautiful blonde sibling and her aesthetic is very edgy and her wardrobe is full of surprises.
Bella has since starred in campaigns for Balmain, Calvin Klein, Givenchy, Topshop, Marc Jacobs, Ralph Lauren, Dior and also walked the runways for Chanel, Tom Ford, Tommy Hilfiger, Moschino, Bottega Veneta, Miu Miu and more. While Bella has been working with big-name designers, she also champions up and coming talents in her street-style wardrobe. Younger brands also benefit from her exposure.
During the 2021 New York Fashion Week, Bella strutted down the outdoor runway for Michael Kors fashion show. The 24 year old was joined by some of the legends of the modelling industry which include Naomi Campbell, 50, Ashley Graham, 33, Helena Christensen, 52 and Irina Shayk, 35.
Bella wore an elegant white mini dress that showcased her toned legs as she strutted down Manhattan's normally packed Broadway. Her dress' collar was shaped into a shallow V, and the off-white outfit shone in the darkness thanks to its brilliant sequins.  Bella covered up the revealing look a bit and with a white blazer that was draped over her shoulders, which also help to fight back the cool temperatures.
Over the years, this modeling sensation has also been flaunting some serious personal style that is both sexy and sporty. She has been seen in crop tops and track suits to thigh-high slit gowns and mini skirts. Scroll down and take a look at the rising model's hot off-duty style.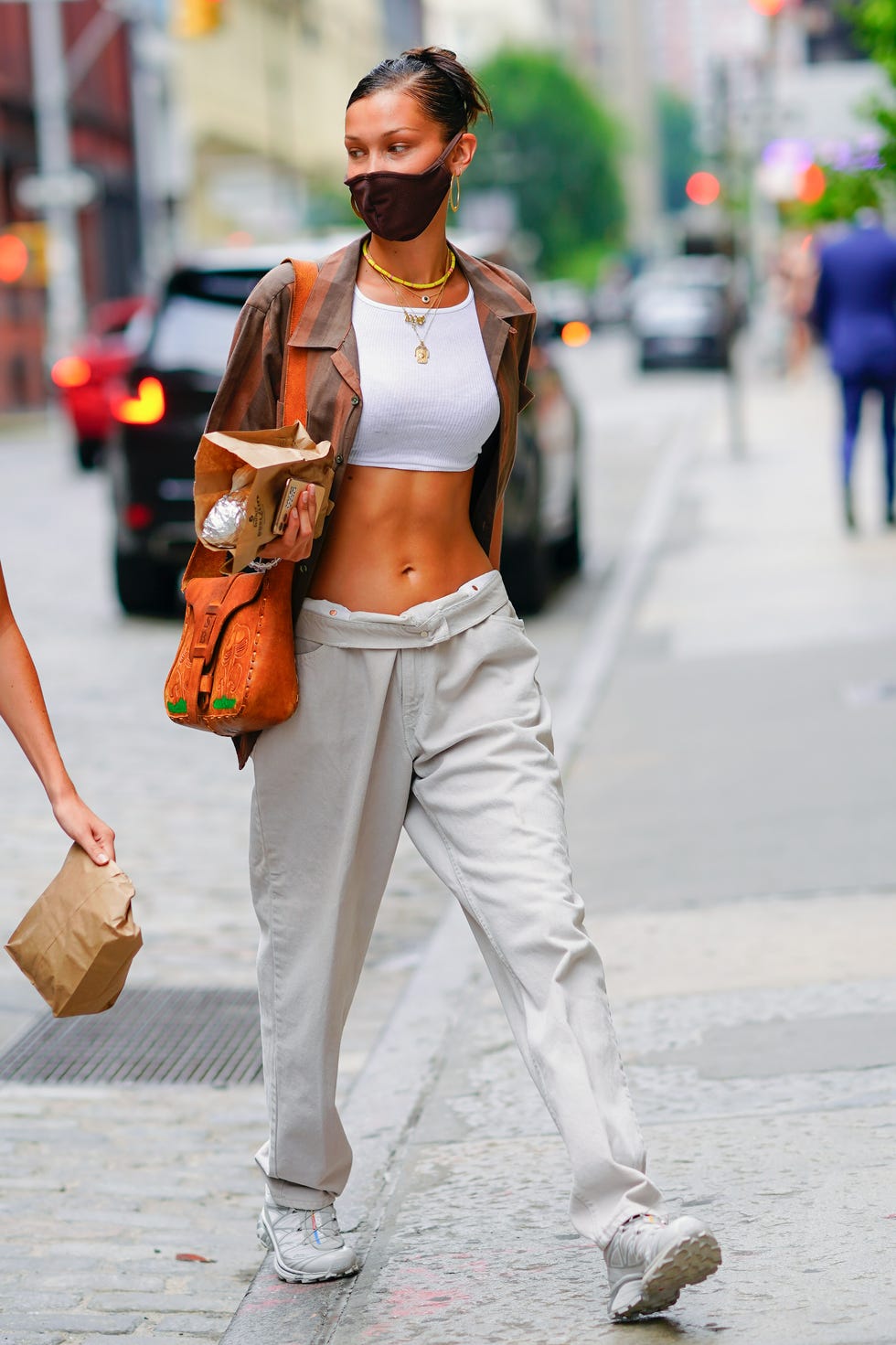 90s style white crop-top, baggy trouser, hoop earrings and white sneakers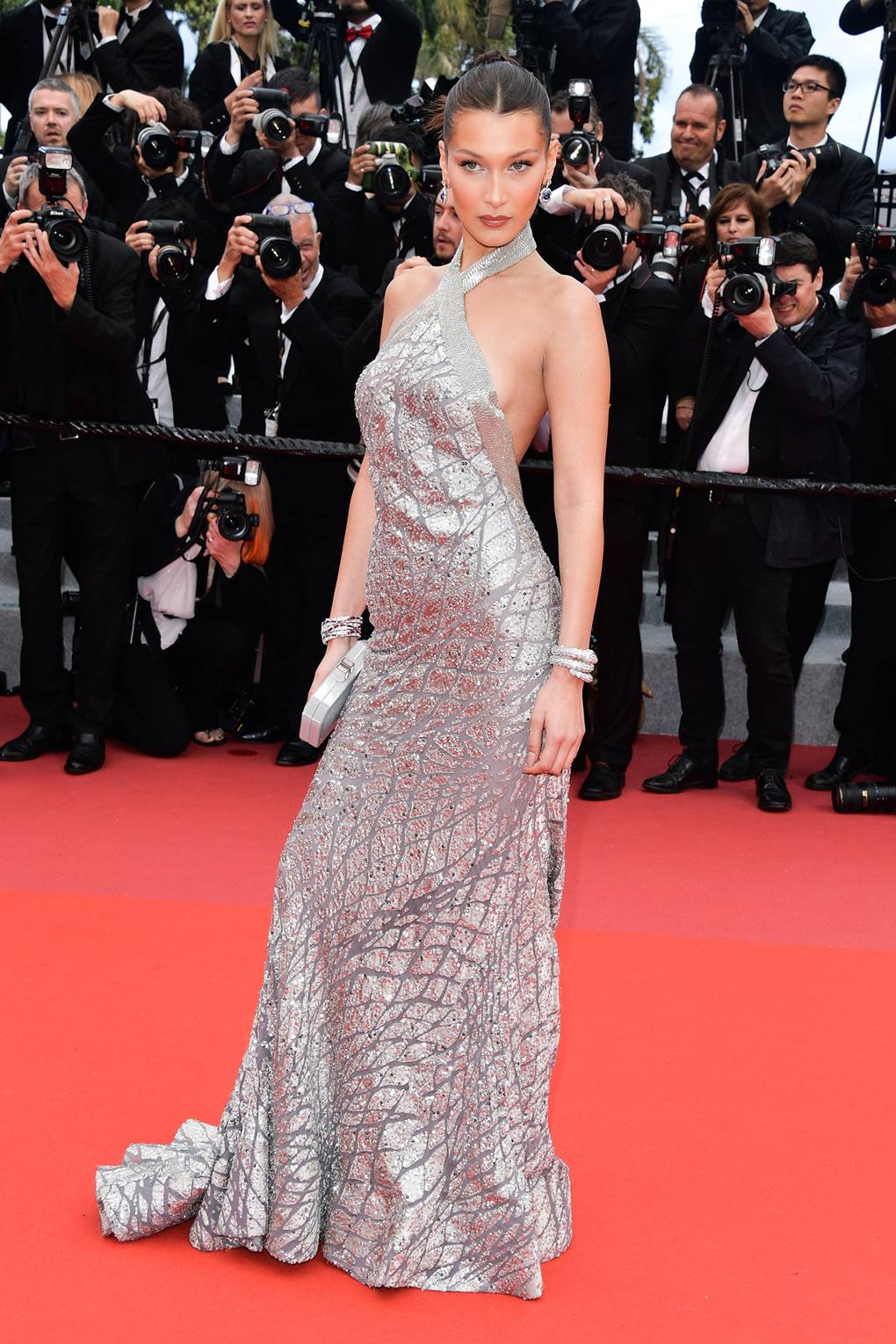 Sparkled her way down the red carpet in this shimmering silver gown at the Cannes Festival in 2018.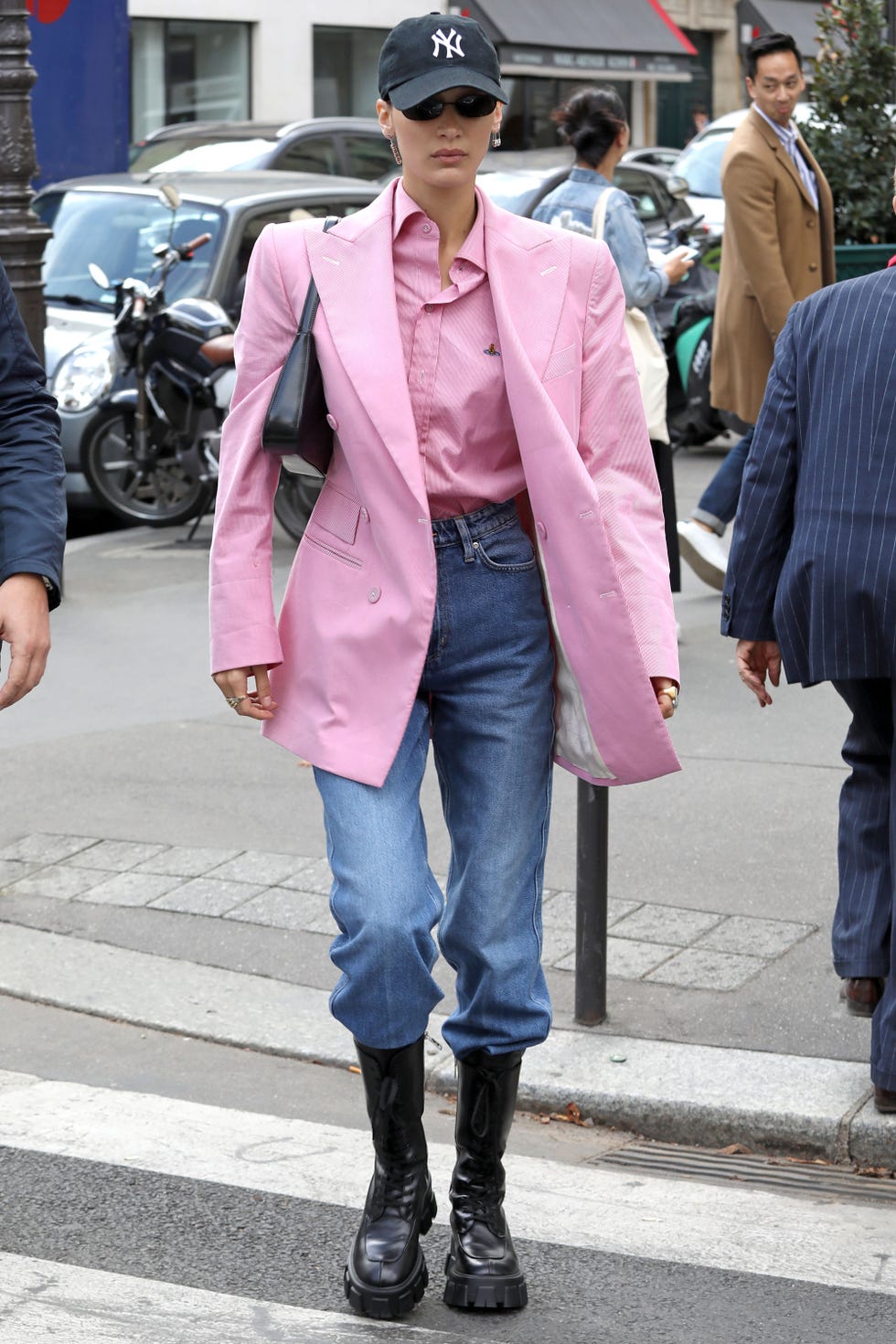 Pink Vivienne Westwood shirt and blazer with high-waisted jeans, Prada boots and a New York Yankees baseball cap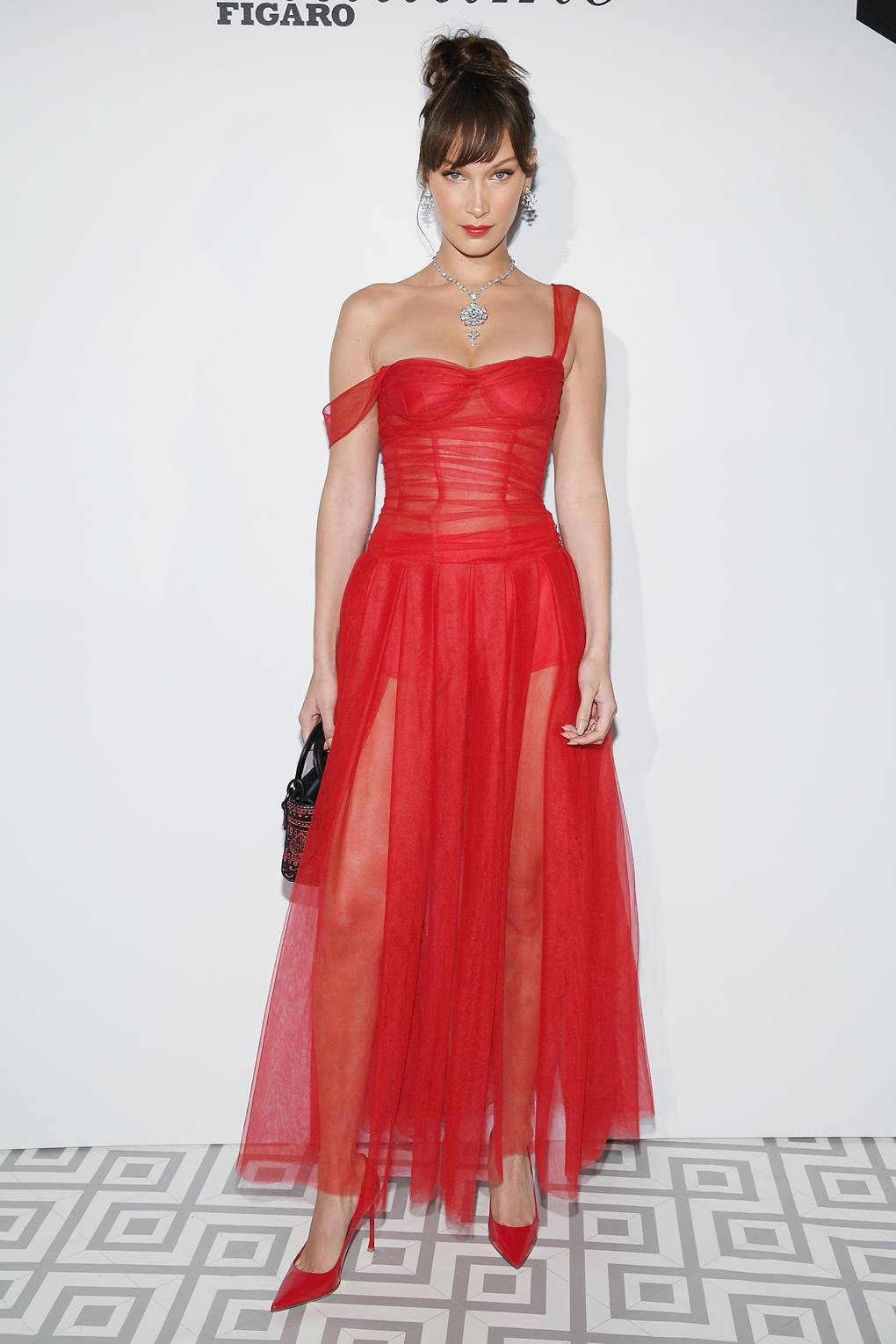 The ultimate Lady In Red in a stunning red dress, heel and re lips combo.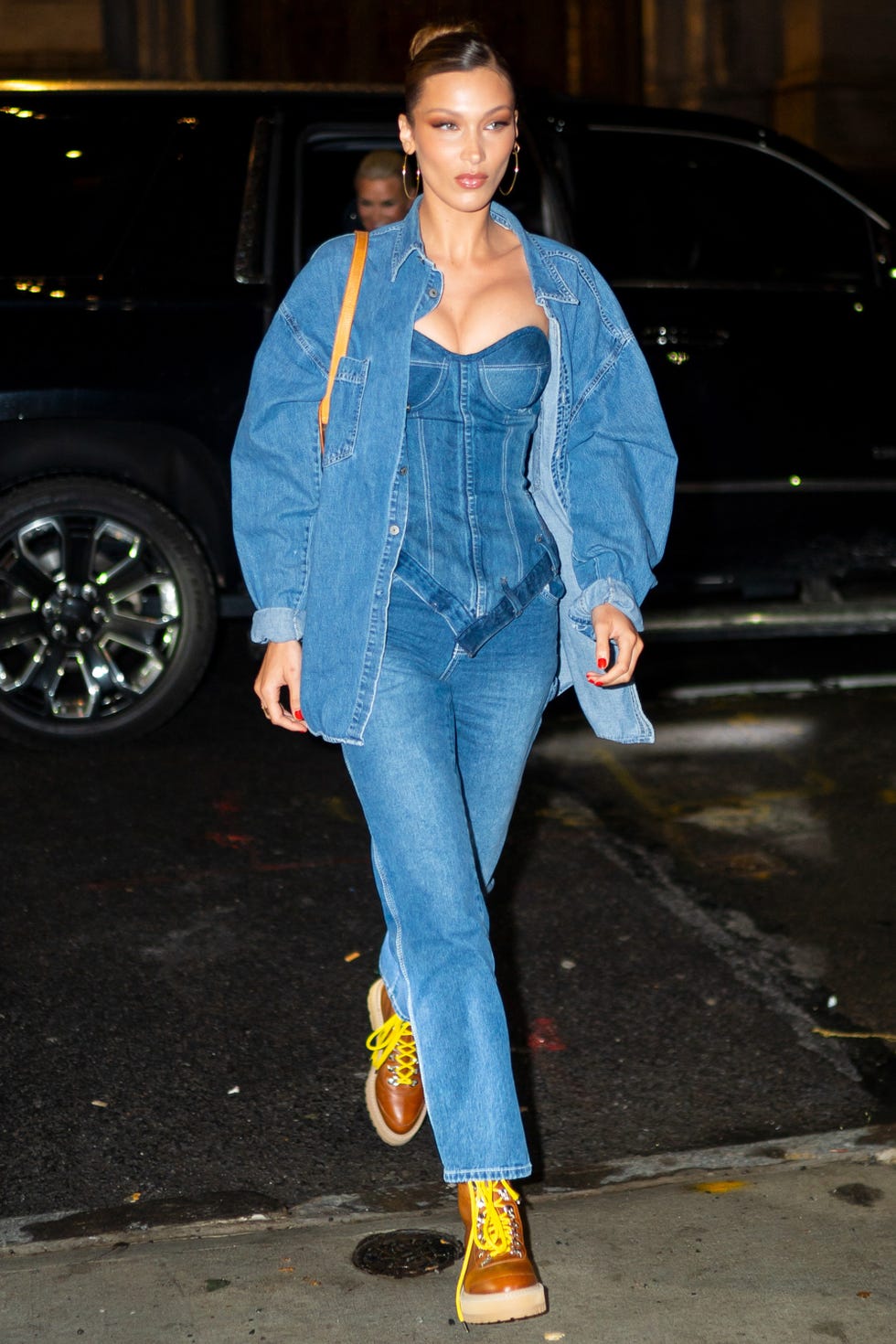 Denim on denim trend – Bella was spotted in a denim jacket and bustier, Dickies Girl carpenter jeans, Louis Vuitton bag, Jennifer Fisher gold hoop earrings, and brown lace-up combat boots arriving to Gigi Hadid's birthday party in NYC