Dressing up is always a treat. Self-care has never been more important than now. Making sure that you wear the best clothing for your body type will help you even more in feeling great and confident about showing your personality and expressing yourself through your unique style.
Body shapes and type may vary throughout a woman`s life so doing body measurements from time to time would really help in choosing the right clothes when shopping. Women shouldn`t be limited with their body shape or type though. You can still wear any type of clothing which suits your style. There are just some ways on how you can use the clothes you have in your wardrobe to flatter your body type.
Here are some of the most common body shapes and types, and how you can use your accessories and clothing pieces complement and flatter your body:
Apple Body Shape
Having an apple shape body means you have a wide torso, broad shoulders, full bust, and full waist.  You can flatter your body by wearing A-Line dresses. It would be even better if you can find dresses with empire cuts. This will balance your figure.
Another great tip is to wear a pair of high-waisted jeans with a cute top. You can cinch your waist by adding a thin belt that matches the color of your top. This way, you can put more definition to your waist while maintaining the flow of your body figure.
Hourglass
Hourglass body shape has long been coveted and we can definitely see why! You can wear almost anything and you`ll look great! Though you wouldn`t want to hide those curves though! Since a typical hourglass shape has a small waist balanced by the shoulder and busts with the hips, wearing dresses that cinch the waist will flatter your body. V-Neck or plunging V, and sweetheart necklines will help you flaunt your upper body.
You can wear a fitted or A-Line dress with plunging V to complement your body type. Body-hugging dresses like bodycon dresses and shirts are your best friends as well. Wearing loose tops and dresses defeats the purpose of having an amazing body so if you don`t like tight-fitting clothes, you can opt for clothes that aren`t too lose but just fit you right.
PEAR BODY SHAPE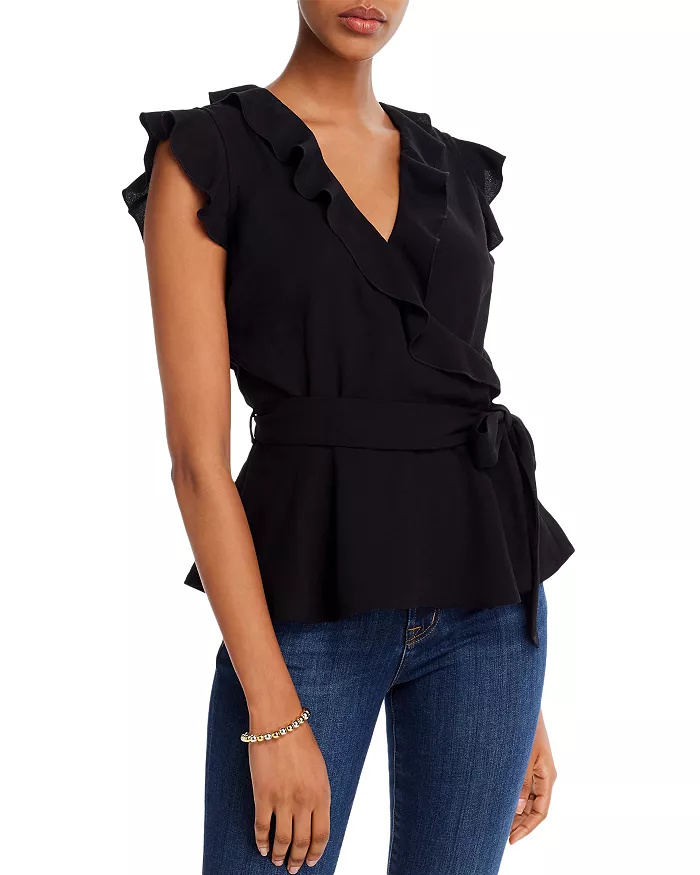 A pear-shaped body means that your bottoms and thighs are usually heavier or bigger than your upper body. Since your lower body has more volume, you can balance your figure by wearing tops with more volume like ruffled wrap tops and patterned blouses. You can pair this top with A-Line skirts or wide-leg pants.
For a more casual look, you can also wear a crop top with a pair of wide leg trousers. Tops with sweetheart, V, plunging V and scoop necklines will help balance the bottom part of your body.
RECTANGLE BODY SHAPE
Having a rectangle body shape is truly a blessing! You have the body type a lot of supermodels have. Your arms and legs are your best features. Having this body type means you have a straight body line.
Choose clothes which adds definition to your bottom and necklines. You can check for sleeveless and strapless tops, and add a cardigan or blazer to your look. Wear this with an A-Line skirt to help cinch your waist.
INVERTED TRIANGLE
Having an inverted triangle body means that your shoulders are broader than your hips. Since your lower body part is smaller than your upper body part, you can strike a balance by wearing a pencil cut skirt, skinny jeans, and even mini A-Line skirts. You can add a thin belt to cinch your waist. Though it would be best to wear less on your upper body to avoid more volume. The key is to balance the heavy volume your upper body part has.
Wearing any clothing you want is heaven! And it`s definitely possible! The first step to accessorizing and wearing clothes is knowing your body type. Once you know your body type, take a look at how you can wear clothes to complement your body by striking a balance between your upper and lower body parts. If you have more volume on your upper body part, you can balance this by wearing A-Line skirts or wide-leg pants. If you have more volume on your lower body part, you can balance this by wearing tops with more volume like ruffle tops, or adding more pieces to your tops like a blazer or cardigan.